Stonehenge A303 road scheme green light fuels controversy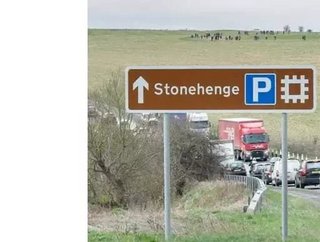 Highways England appoints archaeological specialists but faces ongoing opposition from Stonehenge Alliance...
The UK's Secretary of State for Transport, Grant Shapps, has approved Highway England's Development Consent Order (DCO) application for the A303 Amesbury to Berwick Down scheme – which includes the construction of a two-mile long tunnel near Stonehenge, a 5,000-year old UNESCO World Heritage Site.
In a statement, Highways England says that the much-needed improvements to the A303 past Stonehenge are an important step in finally sorting out a road that doesn't work for drivers, for people who live, work and holiday in Wiltshire, and the south west.
"The announcement is a major milestone, not only for us, but also for the many local communities who have long campaigned for improvements, as well as our stakeholders, who we've been working with for several years," the statement continues.
However, the decision has angered campaigners, who say that the character of the area surrounding the Neolithic stone circle monument could be thrown into jeopardy, and roadworks could destroy areas of archaeological significance.
In a statement posted to its website and on its social media channels, the Stonehenge Alliance – a campaign group that has fought against the project and gathered more than 150,000 petition signatures – says it "deeply regrets the decision by Grant Shapps to give permission for the A303 Stonehenge Tunnel scheme."
It states the decision potentially breaches the UK's international treaty obligation not to damage the site and will undermine the UK's legal commitment to address Climate Change.
Highways England says its teams have been carrying out extensive surveys and investigations over the last few months, ahead of the decision to help prepare for construction.
Wessex Archaeology has been appointed to the project as archaeological specialists in a contract worth £35 million. They will carry out excavations and work to record and preserve any archaeological finds.
"We have also just appointed archaeological specialists - who will carry out excavations and work to record and preserve any archaeological finds - and a contractor responsible for other work that needs to be done before construction starts," the statement says.
"They have already started their planning for starting on-site in late spring of 2021, with work expected to last more than a year." In early 2021, public information events will be held where concerned individuals could find out more about the constructiong and speak with members of the project team."
In October, Highways England appointed contractors for the archaeology and preliminary works for the project, in anticipation of getting the green light in November, thereby allowing the companies to start pre-planning their work.
An £8.5 million preliminary works contract has been awarded to Osborne, which will be responsible for work that needs to be done before the actual construction starts, including site clearance, making sure local wildlife is protected, ensuring connection to a water supply, as well as some small road improvements. 
Stonehenge is a famous monument shrouded in mystery as to why and how it was constructed.