Strawberry Star launches Star Living Build-to-Rent arm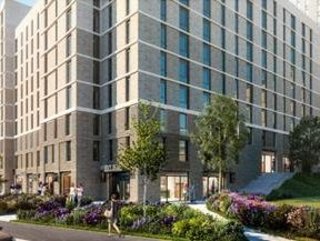 Specialist property developer Strawberry Star wants Star Living Built-to-Rent to be one of the largest providers in the commuter belt by 2027
Specialist property developer and operator Strawberry Star Group has launched a dedicated Built-to-Rent (BTR) arm, Star Living, which it wants to be one of the largest providers in the commuter belt by 2027.
Star Living aims to provide 'a modern and convenient rental product against a background of chronic supply issues', whilst serving investors as a resilient asset class poised for growth.
Star Living will launch at its Harlow development in Essex, with phase one as a dedicated BTR block of 163 residential units with a GDV of £45mn, due to start construction this year.
Planning permission has also been granted for a Star Living site in Gravesend, Kent, with a first phase planned of around 100 BTR units with a GDV of £30mn. An existing BTS site of Strawberry Star, Lu2on in Bedfordshire, will soon launch phase two with 564 units under BTR with an estimated GDV of £160mn. Strawberry Star Group aim to have a portfolio within London commuter towns with a target of £1bn GDV by 2027.
Chairman of Strawberry Star, Santhosh Gowda, said it wants Star Living to be be the leading income generating, diversified and scalable BTR investment platform, drawing on its build and operational expertise.
"With a strong pipeline of new Star Living sites due to launch in the next 12 months, we are one of the few developers responding in volume to the current supply crisis," he added.
"We are focusing on commuter growth towns with a high proportion of young professionals and a low supply of rental properties, aiming to help redress the balance which is causing an upwards pressure on rental values. More choice and better supply will be a huge advantage to those now spending increasing time at home with flexible working here to stay, as BTR products are in a much better position to meet future needs and live-work trends."
Star Living Build-To-Rent arm positioned as 'a solution' to pressurised UK housing market
Adding a dedicated BTR offering on top of development, residential sales, lettings, asset management and acquisitions, Star Living positions the business as a unique end-to-end provider for an integrated solution, providing one customer journey for both investor and tenant, handling everything from letting the property to community engagement.
The business has already tested out market appetite at their flagship Lu2on scheme in Bedfordshire, having recently completed on its first phase of 401 units, with one of the three finished blocks dedicated to BTL rental homes only. 65% of the 135 rental units have already rented within the last 3 months of completion. Luton represents a key growing commuter hub for Strawberry Star, indicative of the future sites Star Living will target.
"Our Lu2on scheme has proven exceptionally popular with tenants, carving out a brand-new rental market for this product type," said Gowda. "It's the perfect location for commuting young professionals, with infrastructure improvements like the new DART train enhancing its appeal. Our proven track record of success here will support our transition into full BTR with a model based on both performance and customer satisfaction."
For tenants, the first Star Living site in Harlow will provide a single customer journey from reservations to end of tenancy, including digital concierge, maintenance, parcel storage, flexible co-working and multi-purpose room, shared roof terrace, ancillary services such as laundry, dry cleaning, and housekeeping, with pets allowed and flexible contracts on offer. Studios as well as one and two-bedroom apartments are expected to be available to rent with Wi-Fi and furniture included. Star Living Harlow is due to complete in 2024 and will eventually provide over 163 new homes.
"2022 is without a doubt the year of BTR, providing an obvious solution to this highly pressurised market. Last year saw a near 80% increase of capital invested into the sector compared to 2020, so it's not unreasonable to suggest investment could triple as we edge towards 2023, having shown incredibly strong resilience during an unpredictable year for the UK economy," said Gowda.