University of Dresden constructs carbon concrete building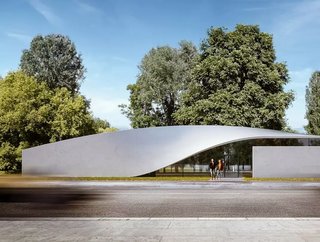 The Technical University of Dresden, collaborating with German architecture firm Henn, is constructing the world's first carbon fibre and concrete building
The Technical University of Dresden, in partnership with German architecture firm Henn, is constructing the first building to be made out of concrete and carbon fibre, rather than traditional steel. 
The combination of materials, known as, "carbon concrete" has the same structural strength as its steel-reinforced alternative but less concrete is used, according to researchers at the university. 
The building, called "The Cube" is currently under construction at the University of Dresden's campus in Germany, and is believed to be the first carbon concrete building in the world. Strengthening the concrete, the carbon fibre yarns are used to create a mesh into which the concrete is then poured.
Unlike steel, the mesh is rust-proof meaning that the lifespan of carbon concrete is longer than that of the more typical steel-reinforced concrete. This also allows the layers to be much thinner than steel. 
The design and shape of The Cube 
According to the companies, the flexibility of carbon fibre allows the walls to fold up and become a roof. In a statement talking about the building's design elements, Hen said: "The design of The Cube reinterprets the fluid, textile nature of carbon fibres by seamlessly merging the ceiling and walls in a single form, suggesting a future architecture in which environmentally conscious design is paired with formal freedom and a radical rethinking of essential architectural elements.
"The wall and ceiling are no longer separate components but functionally merge into one another as an organic continuum." Displayed as a showpiece for TU Dresden's major project, backed by the German Federal Ministry of Education and Research, The Cube aims to explore the potential uses of carbon concrete in construction. 
"Carbon concrete could contribute to more flexible and resource-saving construction processes, and switching to carbon concrete could reduce the CO2 emissions from construction by up to 50%," Henn said in a statement. 
Bio-based carbon fibre under development to reduce carbon footprint
While carbon fibre may be lighter and stronger than steel, it has a much higher carbon footprint. Describing the material's impact on the environment, Dr Erik Frank, Senior Carbon Scientist at the German Institute of Textile and Fibre Research Denkendorf (DITF), said it is "usually very bad." To reduce the carbon footprint, Frank is finding ways to make carbon fibre out of lignin, a common plant-based substance found in the paper manufacturing industry.