Wu Yi DORIC: Targeting APAC's heavy-duty construction projects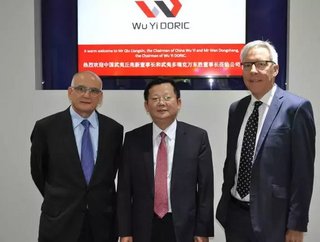 In January, the news that international construction company China Wu Yi had joined forces with Western Australia's (WA) Doric Group to launch Wu Yi D...
In January, the news that international construction company China Wu Yi had joined forces with Western Australia's (WA) Doric Group to launch Wu Yi DORIC, a long-term strategic cooperative relationship with equal shareholding, was met with great fanfare. 
This is not least because it's the first time China Wu Yi, which has been listed on the Shenzhen Stock Exchange since 1997 and by US Engineering News record as one of the Top 250 International Contractors since 1994, has entered into such an alliance internationally.
"Wu Yi DORIC aims to compete for and deliver major tier one construction projects valued at more than $100mn across Asia Pacific," explains Wu Yi DORIC Managing Director Vince Mulholland.
"Our focus for the next 18 months is about developing the brand and business here in Australia and then into Southeast Asia."
READ THE FULL MAY EDITION OF CONSTRUCTION GLOBAL HERE
In the last few years, Doric has delivered a number of recent complex projects. It won the category of National Entertainment and Recreation Facility at the Master Builders Australia National Excellence in Building and Construction Awards in 2016 for the complex $40mn City of Perth Library project. It was also chosen by the State Government to lead the $90mn construction to expand Acacia Prison in Wooroloo, Western Australia (WA), and won the $80mn contract to give the Busselton Regional Health Campus in WA a facelift. It demolished the old hospital buildings, car park and landscaping and built a new campus, including two theatre units, a renal unit and expanded existing units such as the emergency department and consulting rooms.
Fuzhou-based China Wu Yi is the largest contractor in the Fujian Province and was hunting for a company with substantial experience in Australia. It has completed projects in more 30 than countries. A diverse business, it spans global and domestic construction, real estate investment and development, import and export and scientific research and design.
"China Wu Yi brings more experience to Doric from those sectors, so there's a good balance in terms of what we both bring to the table," adds Mulholland. "China Wu Yi is a development company as well, so it's looking at property acquisitions and land acquisitions as a developer in Australia, with Wu Yi DORIC as the contractor."
Already in negotiations with its first major project, Mulholland says Wu Yi DORIC is leveraging off Doric's great reputation within the industry, and China Wu Yi's quality products and technology.
"China Wu Yi has got a lot of pre-cast innovation in terms of, not just pre-cast products, but modular construction," he explains. "So, we're looking at that in terms of where we can reduce cost and reduce time on projects, particularly those where you want to get in and get out quickly."
Doric is currently managing the $345mn redevelopment of the HMAS Stirling naval base on Garden Island, which is the Royal Australian Navy's primary operational support base on the west coast.
"What we're trying to do with Wu Yi DORIC is work with our existing clients and certain government contracts, and also own developments," adds Mulholland. "Those are probably the three areas that we're concentrating on, and I believe in terms of Doric's reputation, Wu Yi DORIC will do well with major clients. A number of them have said to us, 'can you come over east? We've got projects over east.' But up until now, we haven't taken that step. We've always stayed in WA. We've got a good basis in terms of our reputation with some of the larger fund managers, so that's the base that the company will grow from.
"Added on to that is the Chinese input, which the obvious one is the capital, and the balance sheet that they can bring to the group. They're very keen in terms of looking at quality products from China, and innovative methods of construction that they are currently undertaking to incorporate into the Australian business."
Mulholland reveals the nascent Wu Yi DORIC faces different challenges in different cities. While each country in Asia Pacific has its own rules and regulations, so do the various Australian states. "The challenge here in Perth, although it's improving, is that the construction sector has been slow," he explains. "So, that challenge is really about winning work at a profitable margin. In Sydney and Melbourne, it's really about getting good people and good subcontractors.
"We've built up a good sub-contractor database, with many based in Sydney and Melbourne as well, and they've been loyal to us from working with Doric, so we'll be using them."
Wu Yi DORIC currently has a board of six people –  three directors from China Wu Yi and three from Doric Group. In terms of key staff, there is Mulholland, two from China and a handful being brought in from Doric Group. He claims the 50-50 shared new company will help create more job opportunities for locals and WA suppliers.
"Doric is providing some of the senior personnel in terms of the operations," adds Mulholland, "and we'll be hiring some senior people over the course of the next couple of months. I'm looking at people who have worked for me previously in terms of coming into the business. The key to success in business is its people, particularly in the construction industry.
"Most of Doric's project managers have been with us since they have graduated. We look after our people in terms of giving them good experience on projects and developing them in terms of training. We look after our people that stay with us long term."