Barratt Homes marks 500,000th home with digital timeline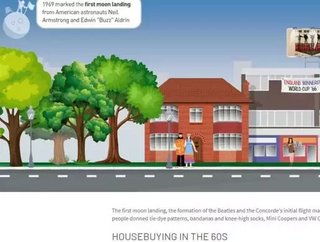 Barratt Homes unveils digital timeline and launches charitable Foundation to mark its 500,000th home...
Barratt Homes has created a through-the-decades digital timeline and launched a charitable foundation as it commemorates its 500,000th property in 2021.
The new Foundation will channel the £4.5m which Barratt donates annually. Barratt is donating £500,000 across 10 charities and asking employees to vote on which should receive the largest share. 
As each decade progresses from the 1960s, users can hover over each aspect of the animation to learn what was happening and how Barratt's history has evolved.   
David Thomas, Chief Executive of Barratt Developments, said the digital tool can viewers explore what made each era so iconic. 
"Creating communities has been a lasting legacy of ours since 1958 when Sir Lawrie Barratt first founded Barratt Homes and we are extremely proud of our contribution to society over the past 60 years. We now look forward to a new era of house building, one rightly shaped by the green agenda but still very much grounded in community," he said.
Last week CFO Jessica White informed the Board of her intention to step down on June 30 "for personal reasons" and to leave at the end of July. 
In the half year to December 31 2020, Barratt Homes completed 9,077 homes, up 9.2% year-on-year, and pre-tax profit rose 1.7% to £430.2 million.