EDF completes UK's biggest ever concrete pour at Hinkley Point nuclear power plant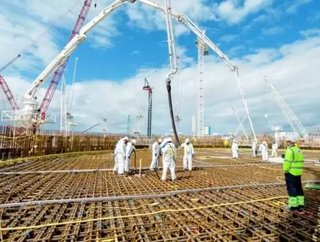 Electricite de France SA(EDF) has completed a record-breaking concrete pour to lay the base slab, known as 'J-zero', at the UK's Hinkley Point nuc...
Electricite de France SA (EDF) has completed a record-breaking concrete pour to lay the base slab, known as 'J-zero', at the UK's Hinkley Point nuclear power station in Somerset.
The final 9,000m³ of concrete beat the UK record set by the Shard in London. Reinforced with 5,000 tonnes of Welsh steel, the base has been under construction by the UK-French joint venture of Bouygues-Laing O'Rourke for the past six months.Construction of the Hinkley Point reactor is now set to begin above ground. 
Good progress and efficiency improvements means that the second Hinkley Point C reactor will hit its own J-zero moment in June 2020
Minister for Nuclear at the Department for Business Energy and Industrial Strategy, Andrew Stephenson commented: "This is a huge achievement for Hinkley Point C and a major milestone for the UK's nuclear new-build industry, which - as a low-carbon electricity source -is key to meeting our ambitious target of net zero emissions by 2050. 
"The project will not only power nearly six million homes, it will add an enormous boost to the local and national economy, delivering over 25,000 new jobs and securing long-term, well-paid employment – a key step in delivering clean growth as part of our modern Industrial Strategy."
Hinkley Point C Managing Director, Stuart Crooks added: "I am proud of the talent and achievement of our diverse UK workforce, our unions, our international supply chain and the design team in France. We are benefitting from direct experience from other EPR projects and a partner in CGN which understands the technology and the project."
SEE ALSO:
Kier Graham, VolkerStevin and Morgan Sindall win $1bn UK nuclear submarine base contract
Congrid, the Finnish construction quality and safety software provider, launches in the UK
A year in review: the trends in nuclear construction
Read the latest issue of Construction Global here
Project update
The construction of the second of Hinkley Point C's two units is well underway and is already showing the improved efficiency possible when an identical design is repeated. The 12-month separation offers maximum efficiency for the transfer of teams between units.
Almost 4,000 people are now working at Hinkley Point C. Half of them are from the local area.

Forgings for the pressure vessel and steam generators are underway at Framatome in France and the world's largest turbine is under construction at GE.

The world's largest crane – the Sarens SGC 250 – is taking shape on site to allow prefabrication of large parts of the nuclear buildings, which improves quality and saves time. This is an innovation informed by experience from previous EPR projects.

£1.5bn of contracts have been awarded in the South-West and 64% of the project value is being spent with UK firms.

430 of 1,000 apprentices have been hired and 8,500 people have been trained and assessed at the specially built Construction Skills and Innovation Centre near the site