Cortec Corporation launches Ecoshrink compostable film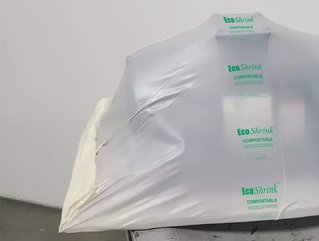 Sourced from certified commercially compostable resins and containing 45% biopolymers, the Ecoshrink film reduces conventional plastic waste
Cortec Corporation believes its EcoShrink compostable film will mark another important notch in plastic-free industrial practices.
Sourced from certified commercially compostable resins and containing 45% biopolymers, the film reduces conventional plastic waste and improves users' environmental footprint. It can be used to cover large or small objects and keep dust, dirt, and moisture off warehouse stock, with wrapping from standard shrink tools. Rolls come individually boxed or in cradle packed pallets.
The construction industry is the second largest user of plastic, producing 300MT annually with 50% single use, and it accounts for around 6% of total plastic waste. Piping and conduit are the largest users of polymers in construction and consume 35% of production.
The Alliance for Sustainable Building Products champions sustainable practices. "Wherever possible the use of plastic products in construction should be confined to specialist high value, low volume application areas such as binders, seals, tapes, gaskets and services," it recommends.
ASBP's technical associate Katherine Adams will join over 50 experts to take part in one of four new task groups which will support the development of the Net Zero Whole Life Carbon Roadmap for the Built Environment. It has devised an interactive guide on plastics in construction and identified four key consumption and disposal issues:
Polyvinylchloride (PVC) makes up nearly 52% (910,000 tonnes), with around 25% landfilled
High-density polyethylene (HDPE) makes up nearly 13% (225,000 tonnes), with around 27% landfilled
Expanded polystyrene (EPS) is 8% (140,000 tonnes), with 32% landfilled
Polypropylene (PP) is 7.4% (130,000 tonnes), with 27% landfilled
Biodegradable plastics have been advertised as one solution to the plastic pollution problem but today's "compostable" plastic bags, utensils and cup lids don't break down during typical composting and contaminate other recyclable plastics, creating headaches for recyclers. Most compostable plastics, made primarily of the polyester known as polylactic acid, or PLA, end up in landfills and last as long as forever plastics.
University of California, Berkeley scientists claims to have invented a way to make compostable plastics break down more easily, with just heat and water, within a few weeks, solving a problem that has flummoxed the plastics industry and environmentalists.
"People are now prepared to move into biodegradable polymers for single-use plastics, but if it turns out that it creates more problems than it's worth, then the policy might revert back," said Ting Xu, UC Berkeley professor of materials science and engineering and of chemistry. "We are basically saying that we are on the right track. We can solve this continuing problem of single-use plastics not being biodegradable."
Stakeholders from the organics recycling and sustainable materials communities have launched the US Composting Infrastructure Coalition to support innovative and responsible waste reduction and recovery solutions like composting. The Coalition believes composting serves as an opportunity to address key environmental challenges and deliver positive economic impacts to people and communities.