Warehouse fire risks rise from e-commerce boom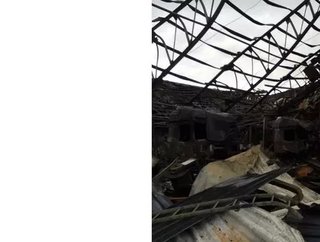 Zurich urges industry and retailers to check sprinkler systems to avoid warehouse fires...
The surge in demand for storage and distribution space in response to the pandemic-propelled e-commerce boom risks a potential rise in warehouse blazes, according to leading insurer Zurich.
Retailers are scrambling to secure more warehouse units – with demand for sites over 100,000 square feet up 64% last year – as the pandemic accelerates the shift of shoppers online. But Zurich has cautioned "outdated" rules on sprinklers could fuel an increase in warehouse blazes, harming businesses and the economy.
The number of warehouses gutted by fire increased by 42% in 2019/20, according to Zurich's analysis of the latest available Home Office data covering all 44 fire authorities in England.
It has led to renewed calls for automatic sprinkler protection to be made compulsory in all new warehouses over 2,000sqm, roughly a third of the size of a football pitch.
Government guidance currently only recommends sprinklers in warehouses of more than 20,000sqm. This leaves Britain lagging behind other European countries where sprinklers are required in sites as small as 1,000sqm in the Netherlands and 800sqm in Norway.
Charles Bush, Zurich's Head of Property and Energy Claims, said while warehouses underpin the huge and growing e-commerce sector, against the tens of millions of pounds Britons spend online every day, current sprinkler standards look increasingly inadequate. 
"As well as posing a threat to life, warehouse blazes devastate businesses, send shockwaves down supply chains, and lead to the loss of jobs and productivity," he said. "While we're committed to helping firms of all sizes manage their warehouse risks, and recover after a fire, the government must look to address this issue too. A failure to make new warehouses more resilient to fire risks damaging Britain's growing e-commerce economy, and the many jobs and businesses that depend on it."
Jonathan Dyson, NFCC Lead for Automatic Fire Suppression Systems, National Fire Chiefs Council, said sprinklers are an effective part of an overall fire safety solution and can be used efficiently to improve fire safety in a range of new and existing buildings.  
"Due to the size, scale and use of warehouses and the potential risks these pose to firefighters responding we believe suppression coverage should be fully reviewed. Sprinklers are the most effective way to ensure that fires are suppressed or even extinguished before the fire service can arrive. They save lives and reduce injuries, protect firefighters who attend incidents and reduce the amount of damage to both property and the environment from fire."
Fire crews in England attend an average of 336 warehouse fires every year – nearly one a day. More than one in 10 blazes (14%) results in the destruction of an entire warehouse building.  In the last decade, fires are recorded to have caused 99 fatalities or casualties. 
Of the 3,400 warehouse blazes attended by fire crew since 2010, around half (49%) did not have alarms and just 6% had sprinklers.
Although the long-term trend has seen the number of warehouse fires fall, the cost of insurance claims has increased across the market.  Zurich claims data shows the average cost of large warehouse fires is £5.9million.
Losses have been driven by the demand for same and next-day deliveries which has sprouted an increase in smaller 'last-mile' warehouses located closer to, or in, urban centres. These are typically older buildings that pose higher fire risks.
The growth in online retail has also sparked a trend towards taller and larger 'big box' warehouses, with more tightly packed goods.  Automation – including the use of robots - has further ratcheted up the risk and costs of warehouse fires.
As warehouses grow in size and density, firms face more severe losses, added Bush. "The destruction of one warehouse is now the equivalent of several.  Consumer demand for faster deliveries also means there is little margin for delay in processing times. When a disaster strikes, business losses start to mount immediately.  By containing blazes, sprinklers reduce the damage fires inflict, helping businesses to recover sooner."
As warehouse risks change, Zurich said it was committed to helping small and large firms protect their businesses and assets. 
Kumu Kumar, Head of Zurich Resilience Solutions, which includes Zurich's risk engineering arm, said warehouse size and usage is changing so rapidly that they are pushing the limits to which sprinklers have been tested.  
"We're guiding customers through what's proven to work. Using insights based on the latest fire protection research, our risk engineers are developing sprinkler solutions for businesses and the specific warehouse risks they face. We're also working with customers as they build new warehouses to ensure the right fire protection is designed in at the start, supporting them at the planning stage, through to sprinkler installation and testing."
The warnings contained in the Zurich report come as the Fire Safety Bill is set to receive Royal Assent today.
Mark Hayward, Chief Policy Adviser, Propertymark, said it marks a significant step to ensuring that everyone feels safe in their own homes, and the Bill will clarify who is responsible for fire safety in multi-occupied buildings. "There will now likely be a more joined up approach between owners and authorities, providing greater enforcement to prevent any further tragedy. Agents must now ensure they understand the implications put onto owners and residents with regards to any additional checks and costs," he said.