Nineteen-year-old Building Entrepreneur Tames the Dragons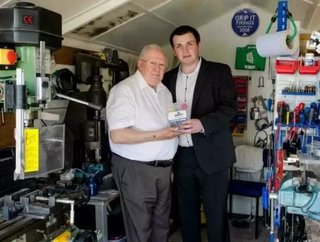 The TV show Dragons Den saw one of its youngest ever entrepreneurs receive investment this week as one of the business leaders, or 'Dragons', in...
The TV show Dragons' Den saw one of its youngest ever entrepreneurs receive investment this week as one of the business leaders, or 'Dragons', invested in what is his third business before he leaves his teenage years.
Nineteen-year-old Jordan Daykin, Managing Director of Grip It Fixings, received £80,000 from Deborah Meaden for a 25 percent stake in his business. The investment will help Jordan with the costs of new machinery, stock increase and a deposit for the firm's warehouse in Melksham, Somerset.
Grip It Fixings are a revolutionary new design of universal fixing designed for use with all types of plasterboard installation. To prove the strength of the fixings in the Den, Meaden put her trust in the product by sitting in a chair suspended by chains from a number of Grip It Fixings in a plasterboard wall.
Jordan left school at the age of 13, keen to follow his entrepreneurial dreams rather than remain in education. His first business was a website called RS2Services, inspired by his love of RuneScape, an online fantasy role-playing game. The site offered players the best RuneScape products at a cheaper price. Whilst struggling to find a tutor to help him with his academic work, Jordan founded nationwide tutoring agency Tutor Magnet, which currently has a database of over 400 tutors and generates a turnover of £2,000 a month.
Jordan came up with the idea for Grip It in 2008 whilst putting up curtain rails with his then 74 year-old grandfather Stan. Having difficulty installing the railings via traditional methods, the pair spent the rest of the afternoon in his grandfather's garden shed figuring out a more effective mechanism.
Aided by his grandfather's engineering background, it took the pair just a matter of days to come up with a prototype for the fixings, and, following months of testing, they applied for a patent in 2009, when Jordan was 14.
Once the patent for Grip It was granted in November 2012, Jordan was keen to grow his new business and sent out over 300 product leaflets to retailers across the country. After initial interest from Screwfix, Plumbase and Buildbase, Jordan met with Wickes in September 2013, which is now an official distributor of Grip It products; available to buy in all of their 220 stores.
Making up the Grip It team with Jordan are 11 of his friends, all aged between 17-19 years old, who look after various areas of the business, from accounts and production to packing and distributing. Jordan's girlfriend Laura is in charge of sales.
Following great success in the UK, Grip It are already trading in Germany and Belgium, with a patent pending in America where the market is seven-times larger than the UK. Jordan's plan is to take the product to the rest of Europe and Australia as well.
Having invested in Grip It, Deborah Meaden said: "Coming up with a practical solution for a problem that enough people experience and at a competitive price is the essence of Business, that Jordan did this at the age of 13 is extraordinary. Having worked with him for several weeks now and seeing his drive, clarity and focus it is no surprise that the range has already grown and Gript now sells in over 700 Stores Nationwide."