View model designs instantly with 3D Send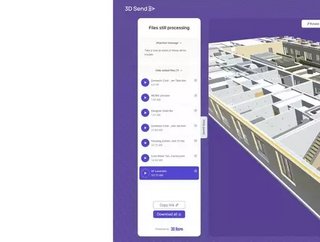 Designed by SaaS platform provider 3D Repo, 3D Send allows architects, engineers and construction professionals to instantly share a 3D model...
A new simple and secure platform, 3D Send, has been created to share and view 3D models without needing to download them first.
Developed by SaaS platform provider, 3D Repo, it allows architects, engineers, construction professionals, hobbyists, or anyone else to instantly share a 3D model. Models can be previewed in the web browser or downloaded to use with your favourite tools with no requirement for sign-in or registration.
Dr Jozef Dobos, CEO at 3D Repo, said: "Sharing 3D models can be a slow process and with everyone using different software and file types it can be a laborious task. 3D Send streamlines this process including offering a preview option, democratising model data so you can share models with absolutely anyone you need to."
Rob Jackson, associate director at Bond Bryan Digital, said all its processes and tools use open standards for information exchange, particularly Industry Foundation Classes and BIM Collaboration Format.
"3D Send offers us an incredibly quick and simple method for sharing models with clients, contractors, consultants and other stakeholders," he said. "It allows them to view models using these open standards in a web browser without having to download and install any software."
3D Send users can share unlimited numbers of models, up to 500MB at a time. Files are stored safely and securely until they have been downloaded for up to 14 days using 3D Repo security. 3D Repo has independent verification via BSI to achieve the highest standards of information security, privacy, and management processes and controls.
"Now more than ever we are relying on quick technological solutions to keep projects on time," said Dobos. "3D Send avoids delay by sourcing the right viewer and encouraging collaboration between the project team."