Top 10 construction_global
The 10 most expensive buildings in the world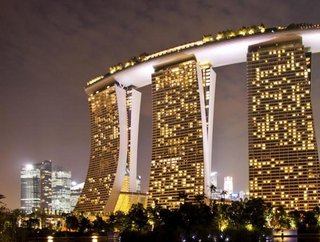 1. Abraj Al Bait, Mecca, Saudi Arabia, US$ 15 billion At a height of 601 metres, Abraj Al Bait is the tallest hotel i...
1. Abraj Al Bait, Mecca, Saudi Arabia, US$ 15 billion
At a height of 601 metres, Abraj Al Bait is the tallest hotel in the world, with a floor area of 1,500,000 square metres and a 100,000-person capacity. Also known as the Makkah Royal Clock Tower, the complex was designed by Lebanon based architectural group Dar Al-Handasah and features the world's tallest and largest clock, standing at a height of 530 metres and measuring 43 metres in diameter, and said to be visible from over 30km away. The upper portion of the clock tower was designed by German architecture firm SL Rasch, and also features a 23-metre-high crescent constructed of fibreglass-backed mosaic gold.
2. Marina Bay Sands, Marina Bay, Singapore, US$ 5.50 billion
At a construction cost of US$5.50bn, Marina Bay Sans is the most expensive resort ever built. The construction consists of three connected 55 story towers and is situated in an area of 38 acres, with the building billed as the world's most expensive standalone casino. Construction was completed in 2010, one year later than planned due to escalating material costs and a shortage of workers, and was overseen by Ssangyong Engineering and Construction contractors, with design by Moshe Safdie. The architecture and design of the resort were all approved by feng shui consultants.
3. Resorts World Sentosa, Singapore, US$ 4.93 billion
The Resorts World Sentosa development, built by Malaysian conglomerate Genting Group, consists of hotels, casino, and a number of entertainment attractions such as the Universal Studios theme park. The resort's integrated oceanarium occupies an area of 20 acres and is the largest in the world, with over 100,000 animals of more than 800 species. Although initial construction was completed in 2009, the Resorts World Sentosa has continued to expand, including the addition of The Marine Life Park in November 2012.
4. Emirates Palace, Abu Dhabi, UAE, US$ 3.90 billion
Opened in 2005 and designed by British architect John Elliot, the seven star Emirates Palace in Abu Dhabi serves as the official guest palace of Abu Dhabi Government and spans a total of 850,000 square metres. The palace, which was constructed as a way of showcasing Arabian culture and luxurious hospitality, reportedly includes 110,000 m3 of 13 different types of marble from China, India, Italy, and Spain, and 1002 Swarovski crystal chandeliers.
5. Cosmopolitan of Las Vegas, Las Vegas, US, US$ 3.90 billion
The Cosmopolitan of Las Vegas is a luxury casino and hotel resort on the Las Vegas Strip, consisting of two high rise towers both at 184 metres tall. Although built by Germany-based banking company Duetsche Bank, it was later sold to NY based Blackstone Group Corporation for US$1.73bn, less than half its original construction price of US$3.90bn. Despite its prime location and gaming credentials, the resort is still considered something of a financial failure after originally going bankrupt in 2008.
6. One World Trade Centre, New York, US, US$ 3.80 billion
The One World Trade Centre in New York City, known commonly as the 'Freedom Tower', was completed in 2013 to replace and commemorate the twin tower of the original World Trade Centre, which fell during the 9/11 attack. As well as serving as a stark reminder of the original Twin Towers, the Freedom Tower also serves as an industrial hub, connecting to eleven NYC subways and housing 71 floors of office space. The steel and concrete frame was designed by architect David Childs, and also features a 9/11 commemorative museum and 55,000 square foot of retail space.
7. Wynn Resort, Las Vegas, US, US$ 2.70 billion
Covering an area of 615 acres, the US$2.70bn Wynn Resort is the sixth largest hotel in the world. Named after casino developer Steve Wynn, the resort has won several accolades, including AAA five diamond, Mobil five-star, Forbes five-star, and Michelin five-star rating. The Wynn also features several resort 'firsts', such as being the first Las Vegas casino to feature a car dealership and being the first to combine both a room key and casino frequent-player card into a single card. The development, which was first announced in August 2001 and completed construction in 2005, is also set to expand in 2020 with the addition of Wynn Paradise Park at the estimated cost of US$1.5bn, including an additional hotel property and a lagoon spanning 35 acres.
8. Venetian Macau, Macau, China, US$2.40 billion
Located directly opposite No. 9 in the list, City of Dreams, The Venetian Macau is the largest casino in the world, and also the seventh-largest building in the world by floor area. The resort, which officially opened on 28 August 2007, features 550,000 square feet of casino space with 3,400 slot machines, 800 gambling tables, and a 15,000 seat CotaiArena for hosting entertainment and sporting events. The resort is renowned for luxury and exuberance, including its Presidente Paiza 12-bay, four-bedroom suite, and was designed by renowned architectural firms Aedas and HKS, Inc. 
9. City of Dreams, Macau, China, US$ 2.40 billion
The US$2.40bn City of Dreams merges hotel with casino and is styled as a podium with four towers: Crown Towes Hotel, the Hard Rock Hotel, and the Grand Hyatt Macau (which spans two towers). The three floored podium features over 200 shopping facilities and 420,000 square foot of casino space. As part of The City of Dreams development a fifth tower is currently being constructed, headed by architect Zaha Hadid, which is due for completion in 2017. The construction will span forty floors and will include approximately 780 guest rooms, suites, and sky villas.
10. Princess Tower, Dubai, UAE, US$ 2.17 billion
As of May 2012, the 414-metre-high Princess Tower in Dubai is the tallest residential building in the world, according to the Guinness World Records. Next to the infamous Burj Khalifa, it is the second tallest building in Dubai, and features 763 residential units including one, two, and three bed apartments, duplexes, and high-quality penthouses. Construction on Princess Tower, owned by Tameer Holding Investment, began in 2006 and completed in July 2012.
Follow @ConstructionGL
Read the June 2016 issue of Construction Global magazine