RSG appoints Al-AYUNI to US$266.3m AMAALA contract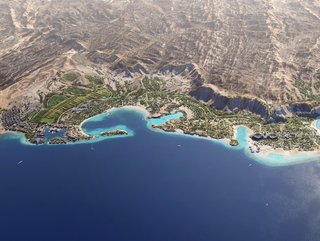 Primary Infrastructure and Utilities contract will cover the delivery of the first phase of development at AMAALA
Red Sea Global (RSG), the multi-project developer behind Saudi Arabia's ambitious regenerative tourism projects, The Red Sea Project and AMAALA, has announced the awarding of a Primary Infrastructure and Utilities contract valued at nearly US$266.3 million.
In a statement, RSG said that the contract will be undertaken by AL-AYUNI Investment and Contracting Company and that it would cover the delivery of the first phase of development at AMAALA, the ultra-luxury tourism destination being developed along the Kingdom's north-western coast, across its Triple Bay masterplan.
"Today's infrastructure deal forms a critical part of RSG's ambitions of pioneering a new relationship between luxury tourism and the natural environment," said John Pagano, Group CEO of RSG.
"The sheer scale of the developments and our relentless pursuit of regenerative tourism require meaningful partnerships that can deliver resilient infrastructure. Together with AL-AYUNI Investment and Contracting Company, we are confident that we can collectively shape the future of developments in the Kingdom and beyond."
Stringent Criteria for Selection
Classified as a 'First Class' contractor in the Kingdom since 2006, AL-AYUNI will be responsible for delivering state-of-the-art Primary Utility Infrastructure Systems, while minimising Triple Bay's carbon footprint as part of AMAALA's commitment towards net-zero operations.
The contractor was selected based on its overall technical and commercial competencies, as well as regional and global credentials, the developer continued. All design and construction methods meet RSG's stringent criteria for end-to-end sustainable development, including economic, financial, social, and institutional factors, it added.
Faheed Al-Ayuni, Chairman of AL-AYUNI Investment and Contracting Company, said: "Red Sea Global is a future-forward developer that is closely aligned with our legacy of innovating world-class solutions, cementing trusted relationships, and setting new benchmarks. It is an honour for us to contribute to its pioneering destinations and we look forward to unlocking the full breadth of our robust capabilities to meet RSG's ambitious sustainability targets."
AMAALA's first phase of development is focused on the Triple Bay masterplan. It will encompass eight hotels and upwards of 1,200 hotel keys. Upon full completion in 2027, the destination will offer 3,000 hotel rooms across 25 hotels as well as high-end retail establishments, fine dining, wellness, and recreational facilities.
RSG is a cornerstone of Saudi Arabia's Vision 2030 ambition to diversify its economy and is playing a key role in transforming the nation by creating opportunities for young Saudi talent and the private sector, as it developed built assets and destinations across multiple sectors.