Harbour work starts on Germany Denmark tunnel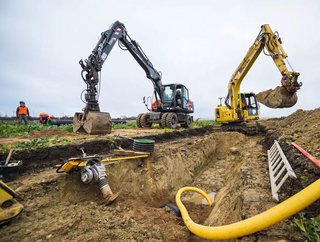 First phase work of the €7 billion Fehmarn Belt Fixed tunnel will focus on developing Puttgarden harbour
Construction work is underway on the €7 billion Fehmarn Belt Fixed link - an 18km tunnel connecting Denmark with Germany - which aims to complete in 2029.
Portal buildings are being built at Rodbyhavn on Lolland and Puttgarden in Germany. First phase work will concentrate on developing Puttgarden harbour, ahead of handling vast quantities of sand, cement, steel and gravel. Behind the harbour a 'tunnel factory' houses six production halls, which will work round the clock casting the 89 concrete elements. 
Femern claims it will be the world's largest concrete production, providing jobs for "several thousand", and many more in the regional supply chain. 
Each standard element spans 217 metres, weighs over 73,000 tonnes and contains two tubes for the motorway, two for rail, and a service passage, and will take nine weeks to build. 
The tunnel elements will be immersed in a 12-metre trench, dredged on the seabed, which will produce 90 million tonnes of soil, sand and stone, which in turn will be transformed into new beaches and land areas.
Once the concrete is set, moulds will be removed and units transported to a dry dock. It will then be sealed at both ends, and the dry dock filled with water. They will then be towed out to sea, and once the ballast tanks are filled with water, the units are lowered onto the seabed, to millimetre precision.
Once in place, the elements are moved together and water is pumped out, creating a partial vacuum ensuring it is watertight. Finally a protective layer of stone will be laid on top of the tunnel, and over time, it will be completely covered by sand.
Motorists will pass Fehmarnbelt in 10 minutes, and the train will be three minutes faster. Train times between Hamburg and Copenhagen will be cut to under three hours.
Skanska signs Nacka metro contract
Skanska recently signed a contract with The Stockholm Regional Council to build a new stage of Stockholm's metro in Nacka. The contract is worth about SEK1.2 billion.
The project includes the construction of a new metro tunnel of approximately 1,200 metres, including platform space and two ticket halls for Nacka station. This is part of the expansion of the new metro's Blue Line, where Nacka is the last station on the eastern extension. The work mainly includes rock tunnels and shafts, rock above-ground, earthwork in the tunnels, concrete work, temporary installations, and temporary traffic diversions.
Construction is scheduled to start in Q1 2022 and is expected to be completed during Q1 2026.