Skanska signs £253m contract for Norway road project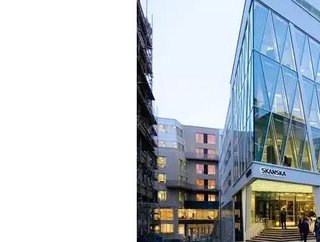 Contract for E16 Bjørum will seen Swedish construction giant develop a modern four-lane motorway with four tunnels and eight bridges...
Skanska, the Swedish multinational construction and development company, has signed a £253 million contract with the Norwegian Public Roads Administration to build a motorway between Bærum and Hole municipality in Eastern Norway.
In a statement, Skanska says that the contract for the E16 Bjørum motorway will be included in the Nordic order bookings for Q4 2020. It adds that the aim of the project is to replace the current winding and narrow road with a modern four-lane motorway, which will significantly improve safety and accessibility for travellers on what is an important exit and transport route in Eastern Norway.
Following the signing, the project will enter a collaboration phase between Skanska, with partners, and the client, the statement said. Construction work is scheduled to begin in February 2021, with scope of work including four tunnels and eight bridges.
The 8.4kms road will involve the movement of three million cubic metres of different masses. In order to ensure enough protection of external environment aspects throughout the project, Skanska will certify E16 Bjørum – Skaret according to CEEQUAL, which is an internationally recognised certification standard for infrastructure.
The company's winning bid was achieved in cooperation with consulting firm Aas-Jakobsen. It was lower than bids from competitors Implenia/Multiconsult and AF Gruppen/Norconsult. 
The four-lane motorway is part of Norway's National Transport Plan 2018-2029, and completion is expected by summer 2025. The existing E16 road will remain as a local road, with additional cycling and walking paths constructed.
The new roadworks are part of a larger plan – the E16 Sandvika-to-Skaret-to-Høgkastet – that aims to develop a faster and more predictable travel time connection between Oslo and Øvre Buskerud, Vest-Oppland and Vestlandet.
The overall E16 project is divided into four sections:
The Sandvika-Wøyen section was started in 2015 and opened to traffic in 2019. 
The local road system around Sandvika (the Sandvika ring) will be completed in the summer of 2021.
The Wøyen-Bjørum section has been completed as a four-lane motorway and was opened in 2009.
The section from Skaret to Høgkastet has been approved and is in the planning stage.
Skanska is one of the leading development- and construction companies in the Nordics, with operations in building construction and civil engineering in Sweden, Norway, and Finland, and developing residential- and commercial property projects in select home markets. The commercial development stream is also active in Denmark. 
Skanska had sales of about £6.12 billion and more than 15,200 employees in its Nordic operations during 2019.