Skanska wins $120m US airport and healthcare contracts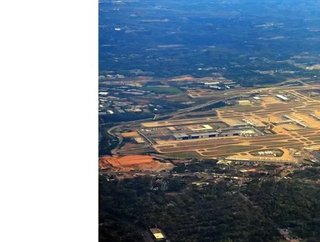 Deals cover Concourse T-North Extension at Hartsfield-Jackson Atlanta International Airport and Orlando Health Jewett Orthopaedic Institute in Orlando...
Skanska, the multinational construction and development company based in Sweden, has signed an additional contract with Hartsfield-Jackson Atlanta International Airport to construct the Concourse T-North Extension and modernisation project.
The project will be carried out in a Skanska-led joint venture along with New South Construction, FS360 and Synergy Construction – the company's share of the contract is worth about $56 million, which will be included in the firm's US order bookings for Q4 2020, according to a company statement.
"The expansion and modernisation of the world's busiest passenger airport will include the construction of five additional gates at the north end of Concourse T at the airport, in addition to rebuilding a major portion of the North Terminal exit road, construct a Delta Air Lines ground support equipment facility and a fire station, as well as oversee relocations to the utilities' infrastructure," the statement continues. 
It adds that the project will enhance the level of customer service by increasing capacity and updating the aesthetic appeal.
Construction is scheduled to begin in January with the joint venture aiming to complete the project by December 2022.
Continuing its strong start to the year, Skanska also says that it has signed a contract worth $64 million with Orlando Health Inc to construct the new Orlando Health Jewett Orthopaedic Institute in Orlando, Florida. This contract will also be included in its fourth quarter orders.
The 371,000sq ft institute will include an eight-storey hospital that will house 75 inpatient rooms and 10 operating rooms (ORs). An adjoining 6-story medical office building will include two floors of ambulatory suites which will contain an added 12 ORs. The inpatient and outpatient facility will be dedicated solely to the care of orthopaedic patients. Construction is scheduled to be completed by Q2 2023.
In 2019, the company registered sales of $9.03 billion.