Wan Bridge and Land Tejas expand Texas pipeline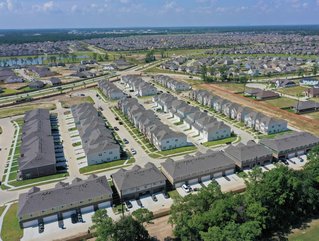 Texas-based developer Wan Bridge grows Texas pipeline and plans 20 to 30 new BTR communities in the Houston, Dallas and Austin suburbs
Wan Bridge Group - a Texas-based builder and operator of build-to-rent (BTR) communities - and Land Tejas have announced an expansion pipeline of more than 1,000 additional BTR units throughout the state of Texas, starting with the North Houston community of Balmoral.
Following the 2021 completion of Wan Bridge's Clearwater at Balmoral project, a 94-town home unit community located within an existing development, it has solidified a new partnership with Land Tejas to lease out an additional 200 lots under its build-to-rent model.
"The build-to-rent model of real estate has found a thriving home in Texas and we are eager to continue expanding our footprint across the Lone Star State, starting at Balmoral," said Ting Qiao, CEO of Wan Bridge. "Land Tejas' endorsement and trust in our build-to-rent model demonstrates that our product has a place in master-planned communities, so together we can offer residents the best of our company's signature products."
Clearwater at Balmoral is Wan Bridge's first build-to-rent development and exclusive townhome offering in the Land Tejas lagoon community, which was announced in August 2020 and completed in July 2021. It will now feature two additional sections, the developer said.
The new three- and four-bedroom townhomes will range from 1,400 to 1,800sqft, with some units featuring a view of the lagoon. The homes will also feature 10-foot ceilings, open floor plans, oversized countertops, walk-in pantries and closets, and more, all signature features of Wan Bridge's existing homes in the community.
"Pushing the boundaries of real estate in Texas and shaking the traditional model to its core has been a Land Tejas goal since we started building communities, and Ting and his team have uniquely complemented our Balmoral project," said Uri Man, Executive Vice President of Land Tejas. "The build-for-rent model, especially higher end luxury product like the Wan Bridge product, is an important asset to master-planned communities because it gives renters the opportunity to experience the community and potentially become homeowners in the future.
"Despite recent supply chain issues and labour shortages, Wan Bridge has proven its dedication to delivering a quality product by not only completing all Clearwater at Balmoral units on time but successfully leasing 100 percent. We look forward to an expanded relationship with Wan Bridge where we can provide more opportunities for residents to live in a Land Tejas community and call it home without owning," Man added.
The announcement follows the news of Wan Bridge's first community in Georgetown, a central Texas town north of Austin, which is part of its recently announced multi-billion-dollar expansion plan in the United States.
In a statement, Wan Bridge said that the community, known as Georgetown Heights, is part of a strategic expansion plan that includes the goal of breaking ground on 20 to 30 new BTR communities in the Houston, Dallas and Austin suburbs, within the next 12 months.
"We selected Georgetown as our next development destination not only for the proximity to Austin, but also as a desirable location itself, offering a great place for business and growing families to live, work and play," said Qiao at the time.
"Bringing a BTR community to Georgetown is the next step in our journey to transform residential living across the state by offering another high-quality option for Texas residents."
Both projects come in the wake of Wan Bridge's 2021 announcement of a multi-year, multi-billion-dollar capital commitment from a well-capitalised, investment-grade US institution to significantly enhance growth. The BTR company has also unveiled ambitious plans to enter Texas' top 50 submarkets by constructing 30,000 homes primarily in the suburbs of the state's major metropolitan areas within the next five years.