WuXi Vaccines Dundalk site to open in 2022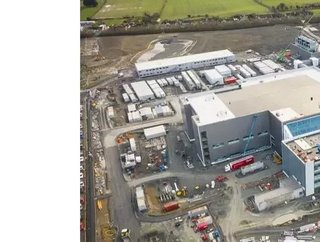 Engineering companies and colleagues worked "beyond the call of duty" to complete construction of Wuxi Vaccines' $240 million site in Ireland...
The construction of WuXi Vaccines' manufacturing facility in Dundalk has been completed ahead of its scheduled 2022 opening.
The $240 million site will be equipped with drug substance manufacturing, drug product manufacturing, manufacturing science and technology, and quality control labs.
Jian Dong, CEO of WuXi Vaccines, said: "We are proud that we achieved this critical milestone on-schedule and per-specifications of the global partner progress which met our commitments to our client while addressing the challenges presented by COVID-19. 
"We will continue to leverage our innovative technology and expertise, our world-class integrated platforms to enable our partners in accelerating the development and manufacture of high-quality vaccine products effectively and efficiently." 
Dr. Chris Chen, CEO of WuXi Biologics and Chairman of WuXi Vaccines, said against the backdrop of a severe epidemic in the local region and increasingly strained global supply chain, its strategic customer, third-party engineering companies and colleagues on three continents "worked above and beyond the call of duty" to complete the construction as scheduled. 
"We could not be more thrilled to reach this important milestone. WuXi Vaccines will remain committed to contributing to the global vaccine supply chain networks and to guarantee consistency and on-time delivery of high-quality vaccines."
WuXi Vaccines, whose 17,748 sq. m. multi-facility Shanghai site is home to one of the largest biologics development teams and laboratories, signed a 20-year vaccine manufacturing contract valued at approximately $3 billion with a global pharmaceutical company in February 2020, following the signing of the letter of intent in May 2019. 
In other healthcare developments:
Cascade Chemistry recently started a project to repurpose a 28,000-square-foot warehouse in Eugene, Oregon, for pharmaceutical manufacturing
JCR Pharmaceuticals plans to build a new plant to produce ingredients for a COVID-19 vaccine in Japan's western city of Kobe
Ashland Global Holdings Inc. plans to increase production capacity of Natrosol hydroxyethylcellulose (HEC) at its Nanjing, China site 
INOVYN is supporting the construction of mass coronavirus vaccination centres in the UK with the supply of PVC resins used in specialist flooring