Notre-Dame 'reborn' with Autodesk digital twin technology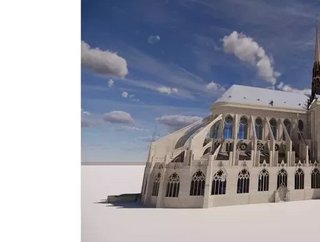 Autodesk drew on 3D BIM modelling to create before-and-after comparisons of famous Paris landmark...
As Parisians today mark the second anniversary of the fire which devastated Notre-Dame Cathedral, digital twin technology has helped reconstruct the landmark to its former glory.
Data using reality capture technologies prior to the fire enabled Autodesk to create a 3D BIM model of the famous landmark and reality capture scans provided 3D models post-fire for comparison.
The models were created by Autodesk in partnership with the French Government - which has set a reopening date of April 2024 - to help manage the restoration of the cathedral, as well as increase its resilience for any future events.
Autodesk is contributing design and construction technology solutions, and drawing on BIM support and technical expertise. The use of BIM creates a historical digital record for increased resiliency for future events and restoration.
Moreover cloud collaboration serves as a central repository for all project information, providing stakeholders with access to latest data and plans.
Army General Jean-Louis Georgelin, President of the public establishment dedicated to the conservation and restoration of Notre-Dame de Paris cathedral, warmly thanked Autodesk for supporting the rebirth of Paris Notre-Dame Cathedral. 
"Using digital technologies designed for the supervision and management of the restoration site is essential for the public institution. Thanks to Autodesk's patronage, the use of cutting-edge design and construction technologies and BIM, are being leveraged to help prepare for the reopening of the cathedral, and to once again welcome both pilgrims and visitors," he said.
Nicolas Mangon, Autodesk Vice President of Business Strategy for Architecture, Engineering and Construction Design Solutions, said it was humbled to participate in the restoration and future preservation of the architectural wonder. 
"Since the devasting fire two years ago, we have provided funding and technology to support the effort through the French Fondation du Patrimoine (Heritage Foundation) and this announcement reinforces our commitment," he said.
The Friends of Notre Dame Paris page provides rebuilding updates. Work is "steadily progressing" on securing the structure, which is due to be finished this summer. All burned timbers have reportedly been removed.
The five sexpartite vaults in the choir, the north transept and the nave will be outfitted with made to measure half-hangers that fit the shape of each vault and account for the building's complexities. To remove the scorched scaffolding on the roof, a was built on three levels to help prevent its collapse.
More than €650 million has been donated for the restoration and the cathedral is being rebuilt with oak trees from local forests, which are to be stored ahead of installation next autumn.
All photos credited to Autodesk, Inc.