Reaping real-world benefits from BIM and digitalisation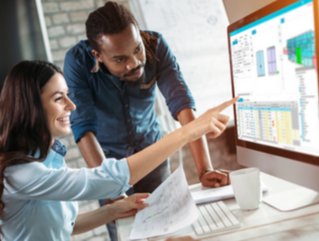 What drives the growing importance of Building Information Modelling (BIM)? We asked Marc Ameryckx, an expert at ASSA ABLOY Opening Solutions
Q: Can you explain a little about what BIM is, on a practical level?
Fundamentally BIM is a collaboration process. Its goal is to place every product and component within a data-rich model of the projected final building. This may sound a bit daunting to anyone new to BIM.
Yet BIM simply marshals all relevant information about the build and makes it accessible to everyone who needs it, whatever their job — architects, engineers, specifiers, construction managers, even investors. The list goes on. Because every construction project is also a shifting mass of information, BIM and digitalisation make perfect partners. The end result — when BIM is done successfully — is your project delivered faster, more accurately and with less waste.
That's not just an empty claim, by the way: Some recent research in the USA found BIM both reduces project costs and improves building design and function.
Q: In what ways have you seen real-world construction projects benefit from BIM?
The digital model — hub of the BIM process— is the centralised store for up-to-date project information. Keeping this model accurate minimises errors in specification, ordering and engineering. It helps stakeholders make important decisions earlier in the process.
It also ensures these early decisions are the right ones. Mistakes are often expensive; BIM helps eliminate them before they happen. And because everyone is working from the same model, logistical delays are reduced and correction loops shortened.
Where relevant, inputs to the BIM resource can include manuals and Environmental Product Declarations (EPDs) required for green building certification schemes — another increasingly important consideration as construction focuses on sustainability and building performance. These benefits are even greater for door solutions, where specification can be complex.
As security solutions have become more sophisticated, their impact on the finished building has grown. If doors, entrances and access control solutions don't have the features required by a building manager or tenant from the outset, it can become a major challenge to implement them at a later stage.
Q: Where can anyone planning a construction project find help with BIM implementation?
Partnering with a manufacturer who has BIM expertise is the best starting point. Embedding relevant BIM consultants early helps to streamline a project. The right BIM partner will coordinate specification and design. They will ensure the full implications of every specification change are understood. For door solutions — which is our area of expertise — having specifications rendered accurately in a model allows architects to introduce decurity solutions with accurate geometry. The nightmare scenario — disrupting aesthetics and usability with a last-minute change to accommodate security — is prevented.
Consultants and specifiers with broad access control and door technology expertise also bring an independent security and safety perspective. This may be missing from the usual project mix. At ASSA ABLOY, we regularly provide subject matter expertise, as well as software solutions to aid the scheduling and coordination.
Q: You mention software. What contribution can software make to streamlining the BIM process?
Specialist BIM software can play a role as a conduit between architectural design software and databases which hold specification data. Our Openings Studio package, for example, delivers detailed door solution specifications directly to the most popular design packages, Revit® and ARCHICAD.
Where stakeholders rely on Excel spreadsheets and PDF floor plans, Openings Studio can instead update architectural designs with each new specification. Again, this cuts errors and wasted time.
Architects can drop new door hardware into place to compare alternatives or run simulations for different solutions. "What if..." questions are quickly answered. Openings Studio software becomes a resource for every project stakeholder — yet another advantage of digitalising the construction process.
Q: What happens to all this information when a build ends?
BIM's usefulness extends far beyond the construction phase. Handover to facility management is smoother. Everyone working on the building, now and in the future, finds information they need quickly. The trusted resource informs site audits, health and safety policy, maintenance schedules, refurbishment projects and more through the lifetime of a typical building.
BIM's benefits are now too great to ignore: in cost reduction, on-time delivery, futureproofing buildings and creating a trustworthy data store down the line. ASSA ABLOY Specification and BIM consultants have supported projects at every scale and level of complexity.
You can learn more and download BIM references here.