Five key trends for the building industry in 2018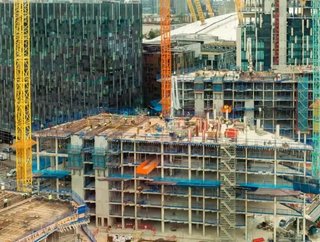 Construction industry expert Saeed Al Abbar, of leading Dubai-based consultancy AESG and Chairman of the Emirates Green Building Council, talks us throu...
Construction industry expert Saeed Al Abbar, of leading Dubai-based consultancy AESG and Chairman of the Emirates Green Building Council, talks us through what he expects to be the key topics and trends for 2018.
Over $85bn worth of building contracts were handed out across the GCC last year, and with a yearly increase of 7% that upward trend should continue through 2018. There can be no doubt that the Middle East is one one of the key regions, globally, for the construction industry.
One of the region's specialist consulting and commissioning firms, AESG, has been a major beneficiary of the GCC building boom, with the company doubling in size over the course of the last calendar year. Some organisations struggle with that scope of change, but AESG seems to have taken the growth in its stride. However, Managing Director Saeed Al Abbar insists that the company isn't "growing for growth's sake", and that growth has been a by-product of success rather than a goal in and of itself.
"We didn't really set out to double in size in 2017, but it did happen," he reflects. "I think it's with the ambition our team has. Everyone wants to strive to be the best at what they do, and naturally with that, you tend to work on bigger projects. I think a testament of that is that 80-85% of our work is repeat work. If we were truly focused purely on growth, we would be spending a lot more time and assets on advertising, but it's more that if clients grow, we grow with them. So that's been the path we've had."
Al Abbar is a passionate advocate of sustainable development and green building techniques and has consequently presented at a number of local, regional and international conferences as well as authoring a number of papers on the issue.
Al Abbar recognises that flexibility is paramount to survive in this industry, as is the experience of having been involved in over 300 projects. He outlines what are, in his opinion, the key trends for the building industry in the year ahead.
Zero and near-zero energy buildings
Since the Paris Climate Agreement in 2015, we have started to see a move towards the decarbonisation of the global economy and according to the terms of that, building stock has to reach net-zero by 2050, and preferably a great deal sooner.
The building industry is already having to adapt and this is something that Al Abbar believes is set to continue. In fact, he thinks the idea of zero and near-zero buildings becoming more widespread is something we should expect to happen sooner rather than later.
"It's something we need to achieve," he says, passionately. "Under the auspices of the Paris climate change agreement… we need to be, by 2050, effectively getting to net zero. That's not very far away, so that's one thing that needs to happen. But I think where there's a need, the industry is able to innovate to meet that need. I think it's definitely feasible (that the construction zero and near-zero buildings will become more widespread). We're working on prototype designs, and we've proven it from the technical feasibility perspective. Now we're trying to optimise it to be cost-effective so we can demonstrate it as commercially feasible as well."
Fire and life safety
Perhaps one of the most obvious themes is fire safety after a number of high-profile façade fires globally. Al Abbar says it's vital for developers to manage their liability and safeguard their investments, both when it comes to new projects and existing developments. He also believes it will become increasingly necessary for fire and life safety teams to work together with façade teams to ensure that the façade designs themselves follow best practices for fire safety.
"The façade does present a fire risk for the building," says Al Abbar. "Now there's been a number of high-profile unfortunate incidents, it's come to the fore and created a lot more focus around it. It's something that can be overcome with good engineering, good materials.
"The cost of insurance is going up because of façade fires. Those developers who haven't considered fire safety in their façade will stand to pay even higher premiums because there's a higher risk.
"I think it's going to be driven into developers that this is something they need to do to safeguard their investment. Likewise, with the codes. Codes internationally are being upgraded to address this risk, so it's going to become an essential part of design."
Commissioning
Modern buildings are exceedingly complex and any which are not properly commissioned will use upwards of 25% more energy than they would have used, as well as not functioning to their optimum capacity. For Al Abbar, a mechanical engineering graduate, this is very much a bugbear that is all too prevalent within the industry. He does believe though, that with more companies using third parties which specialise in commissioning, the problem is being mitigated somewhat.
"The historic practices of allowing MEP contractors to carry out their own testing and commissioning is like asking school children to mark their own exam papers, without the teacher verifying that they have marked their work correctly or honestly," he remarks.
"Take the electromechanical systems in any building, which can be roughly 40% of the cost of the actual project. It can be $400-500mn in terms of equipment. If you don't commission and test that correctly, it's almost a wasted investment because things aren't working as they're supposed to.
"We see a lot of projects now that have faced issues where things are inadequately commissioned; they've got equipment working but not optimally, or not working at all. Most developers, however, are now employing the services of third party commissioning specialists to manage and oversee the commissioning process right from the start of design until handover.
"We've definitely seen an improvement in the approaches and professionalism taken to commissioning, which is something we've been advocating for a number of years now," adds Al Abbar.
Value engineering
Within the construction industry, increasing importance has been placed on value engineering and innovation and Al Abbar says that has been reflected by the emergence of consultancy service providers and contractors, whose approach to value engineering is led by technical specialists and supported by cost consultants, rather than the other way around. He strongly believes it will be the companies which integrate value engineering into their processes, able to provide more value at a lower cost to the client, that will be successful over the coming year.
"I think we've had value engineering here for a good 10-15 years," he reflects. "It's generally driven by cost experts, where they've had a schedule of costs and are trying to remove things from it. I think we've seen the consequences of that and they're not very positive.
"Basically, by removing cost, you're removing value. It's not really value engineering. What I think we're going to see, and what we've been championing and working with clients on, is value engineering driven through the design, supported by the cost experts. So, we work together to say: 'okay this facade has this function to achieve... what's the most cost-effective way of doing that?', rather than saying: 'let's just remove items from the project specifications to save cost.'"
Management of existing assets
The final topic Al Abbar expects to come to the fore this year is the importance of properly managing existing assets. Buildings are always ageing, and he says the demand for recommissioning the mechanical, electrical, fire and life safety and even façade systems of older buildings is becoming more and more common.
To do that properly, he explains, needs "a holistic diagnosis of all systems in the building is required to ensure their proper functionality", including a thorough review of vital systems such as air conditioning, the building management system (BMS) and fire and life safety systems. Organisations that decide to take this up in 2018 would do well to treat BMS as the starting point," says Al Abbar. "As this is not only where building systems are orchestrated, but BMS will also help pinpoint where systems are not working in harmony. This validates that the building systems provide a safe and healthy environment for occupants, and also provides significant energy savings.
"I think it's evolving, but there's still a long way to go. The leading developers with multiple assets that are around for some time are seeing the importance and value of good asset management. As the maturity kicks into the market, not just here, but globally, I think we'll see more of it."
So, what will all this mean?
The main focus for companies this year has to be ensuring they have an awareness of the changes in the industry and the refocusing which has happened in certain areas of the market.
Al Abbar believes that "those who ignore the tides of change will be left behind".
He concludes: "I think globally, in every industry, we're seeing the rates of change so fast, faster than it has ever happened before.
"You take the taxi industry, which has been stagnant for years and now it's been completely disrupted with the challenges of increased competition, increased globalisation, lower liquidity in the market, internal pressures and challenges, alongside the perfect storm of changes to technology and approaches to digitalisation. Every industry is evolving so quickly, and the cycles every two or four years reinvent themselves, and if you're not able to do that then it's going to be a struggle. I think it's something we take quite seriously, not to rest on our laurels. Be aware of what's coming up around the corner because it comes around a lot quicker than we've all been used to."