HS2 reveals images of progress on new station at London Euston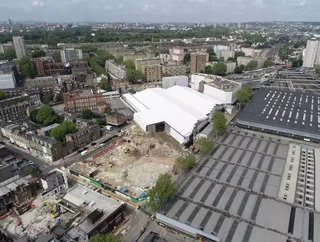 HS2 has released images of the progress being made with the redevelopment of London Euston station. It hascompleted the demolition of a former BHS wareh...
HS2 has released images of the progress being made with the redevelopment of London Euston station. It has completed the demolition of a former BHS warehouse on Hampstead Road, close to the new station's proposed Camden Town entrance.
The images highlight the scale of the new mega-station, whose 400m platforms and concourse will be built adjacent to the existing station, doubling capacity and improving journeys for millions of people.
The former BHS warehouse was once the centre of the department store's London distribution network, with the building providing office space above the warehouse, loading bays and basement. Since the closure of the warehouse, the 5,000 square foot building had been temporarily occupied by UCL's Bartlett School of Architecture and used by HS2's contractors as office space.
HS2 Ltd's Programme Director, Matthew Botelle, commented: "HS2 will transform Euston, delivering much-needed extra capacity, improving journeys and unlocking the opportunity for thousands of new jobs and homes.
"This week's milestone is the latest evidence of the progress we are making across London. With our fascinating archaeological programme in full swing and more than two thirds of demolitions now complete, I'd like to thank all those involved in the project for their hard work and dedication.
SEE ALSO:
HS2 launches bid prequalification for Birmingham Curzon Street
Comment: HS2 will define the future of the UK construction industry
HS2 appoints Lendlease for the £1.65bn Euston station redesign project
Read the latest issue of Construction Global here
In the UK, more than 9,000 jobs are now supported by HS2 both directly and in the supply chain, delivering essential early works, including demolition, utilities, ecological works and the project's pioneering archaeological programme.
Across the capital, more than two thirds of demolitions have now been completed, with utility work and the creation of new wildlife habitats as part of HS2's 'green corridor' project, also well underway.
Once complete, the station, could, for the first time, include a new entrance facing north towards Camden Town and west towards Hampstead Road and the shops and restaurants of Drummond Street. In total, the arrival of HS2 will more than double the number of seats out of the station during peak hours.