Kiewit-Parsons JV awarded $806mn California light rail scheme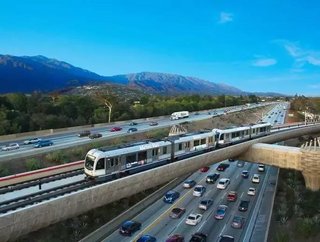 Kiewit-Parsons has been awarded the main $806mn design-build contract for California'sFoothill Gold Line light rail extension which will complete the...
Kiewit-Parsons has been awarded the main $806mn design-build contract for California's Foothill Gold Line light rail extension which will complete the first nine-mile segment from Glendora to Pomona.
The deal also includes a two-year contract option to complete the full 12.3-mile project to Montclair (adding stations in Claremont and Montclair) for a total contract amount of $1.18bn if additional funds are secured by September 2021. 
The base scope includes all elements of design and construction for the first nine-mile segment, including relocation of the existing freight track, installation of the light rail track system, four new light rail stations (in Glendora, San Dimas, La Verne and Pomona), improvements at 40 grade crossings (nearly half with new or renovated bridges) and much more. 
"This team presented the best of both worlds; the top ranked team in all technical categories and the lowest bid price based on the formula set out in the RFP for the base scope to Pomona and contract option to Montclair," said Construction Authority Board Chairman and Pomona Mayor Tim Sandoval. 
"I am happy with the outcome and the selected team and applaud the significant effort staff at the Authority put into conducting this procurement. Ultimately, we had two excellent teams vying for this important project, and the best proposal won."
SEE ALSO:
Federal Railroad Administration offering over $300mn in grants supporting US railroad infrastructure
Skanska wins $113mn light rail contract in Bergen, Norway
Skanska, Kiewit, ECCO III Enterprises JV Awarded $555m New York Bridge Project
Read the latest issue of Construction Global here
Kiewit and Parsons have teamed up dozens of times in the last two decades to complete design-build projects, including successfully building the first two segments of the Foothill Gold Line project which were completed on time and under budget in 2003 and 2015 respectively. They have designed and built hundreds of major infrastructure projects in the last fifty years, and both are award-winning companies, providing world-renowned experience.
"Kiewit and Parsons both enjoy a long-time relationship with the Construction Authority, having both worked with the agency since 1999 when we began design on Phase 1 from Union Station to Pasadena. It is an honor to be chosen to continue that work east and to have a chance to work again with the hard-working and dedicated team at the Construction Authority," said Steve McFadden, Area Manager, Kiewit Infrastructure West Co.