Keltbray Revenues jump 15 percent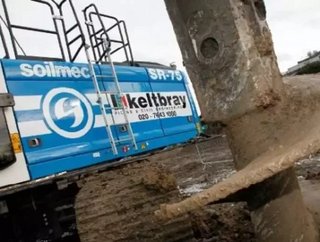 UKdemolition, civil engineering and design, decommissioning, rail, remediation and environmental services specialist Keltbrayhas announced a 15 percent...
UK demolition, civil engineering and design, decommissioning, rail, remediation and environmental services specialist Keltbray has announced a 15 percent increase in turnover for the financial year ending 31 October 2013, from £126 million to £145 million.
It is the company's best performance in its 38 years to-date. Gross profit improved by 29 percent, and operating profit remained stable at £2.6 million. The Group's cash position improved to £4 million in hand by year-end, and it predicts a 20 percent growth in the business this year.
Keltbray Group employs about 800 people and has three reporting streams, including Demolition & Civil Engineering, Rail and Environmental Materials Management.
The Demolition & Civil Engineering division, which covers around 66 per cent of Keltbray's business and includes piling, asbestos management, engineering design consultancy as well as haulage and plant increased turnover by around 12 percent.
The company cited its increasingly integrated services offering, and the securing of long term and complex contracts, such as the flagship regeneration projects at The Heygate Estate in London for Lend Lease, and the largest value residential development in Europe for Qatari Diar at Chelsea Barracks, as the key to its success.
Keltbray's Rail division, which covers around 30 percent of the business and includes overhead line electrification design and build as well as rail engineering and civils projects, grew by 24 percent and was responsible for the company's biggest turnover increase.
Keltbray also pointed to a strong future rail order book after it became the delivery partner for ABC Electrification and Costain to work on a seven-year rail electrification framework contract, which is expected to provide workloads until 2021.
Less positive was the news from the Environmental business, which reported revenues down to £4.6m from 5.4m the previous year.
While revenues rose, pre-tax profit actually fell three percent from £1.97m to £1.91m the previous year, due largely to higher administrative costs (up 5.8m from 19m) and a decrease in "other operating income" to £510,566 from £799,144.
Commenting on the 2013 results, Keltbray Chief Executive Officer, Brendan Kerr, said: "I am pleased about the continued strengthening of our performance and our consistent improvements in turnover growth and maintenance of operating margins.
"To meet increasing market demands, we invested a record £9 million in new plant and assets in 2013. We also bolstered our human resources and training functions to manage our future skills and labour requirements effectively.
"In 2013 we also produced our first sustainable development report to record progress we are making in aligning our operations to include a greater awareness of our corporate social responsibilities.
"We expect to continue to stay ahead of the construction market recovery by growing the business in excess of 20 percent in 2014 based on our good pipeline of work. Our challenge for 2014 and 2015 will be to meet the widely reported skills shortages in our industry by widening the talent pool and continuing to build on our track record of attracting young people to Keltbray by offering good prospects, job security and a range of training and development opportunities."