Milestone hit on Australia's Botany Rail Duplication Project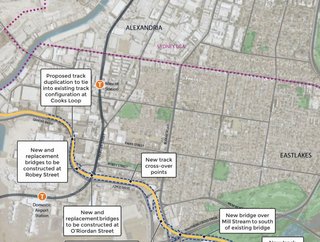 ARTC to dismantle rail bridge in Mascot, NSW so as to install a new bridge that will reduce road traffic and increase freight capacity
Australian Rail Track Corporation (ARTC) has said that a major construction milestone has been reached on the Botany Rail Duplication Project, as it will be dismantling a rail bridge in Mascot, New South Wales, so as to install a new bridge.
In a statement, ARTC said that the rail bridge on Robey Street, north of Qantas Drive, will be dismantled between February 3 to February 6, 2023, with road closures taking place to enable this. Routes around the area will be closed from 11:00pm Friday 3rd to 4:30am Monday 6th February 2023, it continued.
Furthermore, while access for local businesses will be maintained, and traffic controllers will be on site, access for motorists exiting Sydney Domestic Airport would be restricted. Detour routes would be signposted, it added.
Mike Zambelli, Group Executive, Major Construction Projects, ARTC, said: "The Botany Rail Duplication is a transformational project; the Robey Street bridge construction indicates major construction works are on track with the project expected to be complete in 2024.
"Not only will this project increase freight capacity, it will also encourage more freight movements to be made by rail – helping to shift freight away from road transport and reduce truck movements and associated traffic congestion," he added.
Transformational Project
The Australian Government is fully funding ARTC to deliver the AU$400 million Port Botany Rail Line Duplication project. It is expected that the project will deliver better access to global export markets via Port Botany, improve freight supply chains across New South Wales and help ease local road congestion.
In addition, the project will duplicate the remaining 2.9-kilometre section of single line track to Port Botany, allowing freight to be moved more efficiently and effectively. This will help meet future demand where the freight task is predicted to increase by 77% by 2036.
"Each extra freight train travelling on the Port Botany Rail Line will take up to 54 trucks off Sydney's roads and that will be well received by local road users. We thank motorists for their patience during this period and remind those heading to the airport to allow additional travel time," Zambelli concluded.
The Botany Rail Duplication Project project will increase capacity on the Botany Line and wider Metropolitan Freight Network, with one train able to move around the same amount of containers as 54 trucks.
This will encourage a shift in freight from road to rail, helping to reduce truck movements and associated traffic congestion.
Australian Rail Track Corporation (ARTC) is delivering the project on behalf of the Australian Government.Together, with the Cabramatta Loop Project, Botany Rail Duplication aims to provide the capacity to meet predicted growth in the containerised freight task and support rail services between Port Botany and metropolitan freight intermodal terminals.
The Botany Rail Duplication Project will complement future upgrades taking place in and around the airport and port precinct which aims to improve traffic flow and help reduce congestion on nearby roads, including the Sydney Gateway project, where ARTC is working closely with Transport for NSW in developing the design and planning for the project.