Proterra teams up with Komatsu to build electric excavator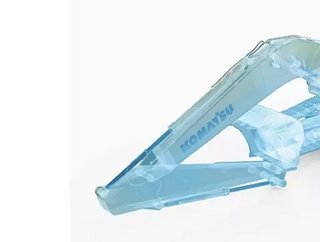 Proterra's high-performance battery systems will be built in a concept electric excavator in 2021 before expected commercial production in 2023-2024...
Proterra is driving into the off-road vehicle market after partnering with Komatsu to develop its first electric battery middle class hydraulic excavator.
Komatsu will use Proterra's high-performance battery systems for the development of a proof-of-concept electric excavator in 2021 before expected commercial production in 2023-2024. The Proterra battery system powering the electric excavator will feature high energy density and fast charging technology.
The US-engineered Proterra battery packs will have a customizable design to fit in a variety of vehicles. The packaging flexibility of Proterra's battery platform will replace the need for a normal counterweight used to balance the excavator's hydraulic arm movements.
Proterra CEO Jack Allen said its battery technology has been proven in its fleet of transit vehicles that have recorded 16 million miles. "What's working in our battery-electric transit vehicles on roads across North America can work off-road, too. We look forward to collaborating with Komatsu to deliver the benefits of emissions free, quiet Proterra Powered vehicles to more communities around the world."
In addition to reducing noise and air pollution, the design of Proterra battery packs offers an ideal application for an off-road, construction setting where safety and durability are paramount.
Proterra designs its batteries with safety as a core guiding principle and all Proterra battery packs undergo rigorous testing to ensure they can withstand the toughest conditions.
Last year Caterpillar, along with Pon Equipment, unveiled an all-electric 26-ton excavator with a giant 300kWh battery pack in an effort to electrify construction equipment.

McKinsey research found the potential for Battery Electric Vehicles is strong but several barriers remain, particularly with regards to charging (click here).
"Battery-swapping solutions and high-power-charging (to 1.5MW, up from approximately 150KW today) solutions are continuing to develop, but wide-scale commercial availability will be key to rapid BEV adoption," it writes. 
"Even if these technologies materialise and become widely available, there will still be several heavy machinery and equipment types and applications where adoption will be slow due to the remoteness of work sites and limited or unreliable access to electricity."