DEWALT: The first brand to use the pouch cell battery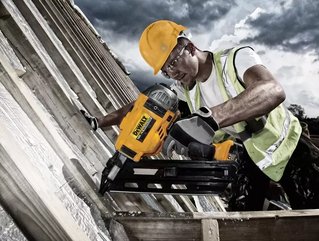 Construction tool manufacturer DEWALT has today launched its POWERSTACK 18V Compact Battery, making it the first brand to use pouch cell batteries
DEWALT, a leading manufacturer of construction tools, has become the first brand to use pouch cell batteries for the construction industry, following today's announcement that it has launched the DEWALT POWERSTACK 18V Compact Battery. DEWALT is owned by Stanley Black & Decker
"DEWALT POWERSTACK 18V Compact Battery technology represents a breakthrough battery innovation in the power tools industry," said Jaime Ramirez, Executive Vice President & President of Global Tools & Storage for Stanley Black & Decker. "Our groundbreaking dependable lithium-ion battery pack represents a new threshold of cordless power tool performance, helping to further realise the full potential of the cordless job site of the future. The DEWALT POWERSTAC battery is a significant feat of engineering that reflects a long history of innovation leadership from DEWALT, as well as our relentless pursuit to provide our customers with the best cordless power tool experience on the market."
Features and benefits of DEWALT's POWERSTACK 18V Compact Battery
According to the company, features and benefits of the new battery include 50% more power, enabling broad application capabilities and fast performance with cordless tools, 25% more compact, and 15% lighter. It was designed by DEWALT to provide tool maneuverability, high precision, and reduced fatigue when used in tight workspaces and also has twice the lifespan providing the user benefit of more overall investment value. 
In addition, the battery includes several features to optimise functionality. The battery pack has a LED fuel gauge that displays the battery's state-of-charge, helping the end-user avoid unplanned work stoppages, and is designed with a durable, non-marring rubber overmold that provides impact resistance while helping to protect finished surfaces. The battery is ideal for cutting, drilling, and fastening applications, precision and finishing tasks, and when working in tight spaces. The DEWALT POWERSTACK 18V Compact Battery is compatible with all DEWALT 18V XR tools and chargers in the 18V XR system, DEWALT said in a statement.
DEWALT since 1924 has been a leader in trailblazing technology, producing products based on customer needs. From the introduction of XR FLEXVOLT batteries, the world's first batteries that automatically change voltage when users change tools, to TOOL CONNECT software that manages inventory across global job sites through Bluetooth technology, DEWALT says it is "committed to meeting the demands of professionals".