Top 10 construction_global
The US Camden Waterfront development: Top 10 Facts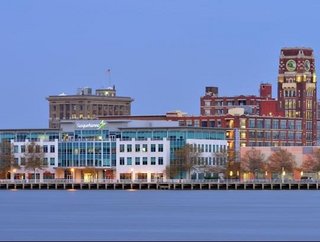 The US Camden Waterfront mixed-use development is set to finally undergo construction works in a $1 billion project.
The US Camden Waterfront mixed-use development is set to finally undergo construction works in a $1 billion project. Liberty Property Trust will be behind the construction works after receiving the necessary land rights. Take a look at our top 10 facts surrounding the new project.
1. Initial works will be undertaken with the complete construction and overhaul of One Water Street, which will become the new headquarters for American Water, encompassing five storeys and over 220,000sq ft of office space.
2. Designed by Robert A. M. Stern Architects, the new building will be built with embedded sustainable features in order to attain LEED Platinum and Shell certification.
3. The development will be beneficial not only for residents, but corporate businesses and local workers. Liberty Property have agreed to recruit locally, where approximately 20 percent of the construction workforce will be locally sourced, but will also provide apprenticeships, enabling younger workers interested in construction to participate.
4. The company has also worked with Dranoff Properties in the removal of impeding view easement restriction, which had initially affected the project's designs.
5. The entire waterfront park will be redeveloped to provide communal areas for locals, encompassing over two acres of park area, accessible for tourists, locals and families within this commercial space
6. The project also includes a new embedded transport links and pathways for pedestrians and cyclists, strengthening existing infrastructures, in addition to a new parking garage with over 800 spaces.
7. The development will provide a new Hilton Garden Inn, containing 180 rooms, aimed at tourists who visit the area, in addition to over 180 residential units for families within the area, of which approximately 20 percent will become affordable housing.
8. In order to conceal construction fencing, developers will enable the younger demographic in Camden to design some murals in order to engage this younger audience in the project.
9. George E. Norcross, chairman of Cooper Health has provided significant investment in the new residential units and planned hotel, alongside several other investors within the project.
10. This group of investors have also purchased the nearby Ferry Terminal Building, which contains offices close to the redevelopment.
Follow @ConstructionGL
Read the December 2016 issue of Construction Global magazine.