Atkins appointed as Deliver Partner for The Line at NEOM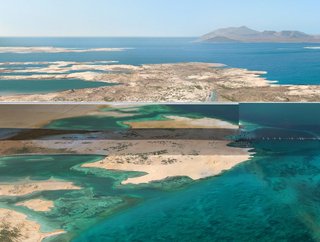 Consultancy has been awarded a five-year contract under a framework agreement for project and construction management consultancy services
Atkins, a member of the SNC-Lavalin Group, has been appointed as a Delivery Partner Organisation for The Line at NEOM, in Saudi Arabia.
In a statement, the firm said that it has been awarded a five-year contract under a framework agreement for consultancy services on The Line. In collaboration with NEOM and other Delivery Partner organisations, Atkins will provide project and construction management consultancy services for the design, procurement, construction, testing and commissioning of the project, together with the management of the critical interfaces that the linear city shares with adjacent NEOM projects and logistics.
The project has adopted a highly collaborative delivery model in response to its scale, complexity, supply chain and requirements for innovation, it continued.
Envisioned as a civilisational revolution that will have no roads, cars or carbon emissions, the linear development will be 170 kilometres long when completed. It will also be only 200 metres wide and will run 100% on clean energy.
Saudi Arabia has claimed that the cognitive city will eventually be able to accommodate up to nine million residents and will be built on a land area of 34 square kilometres – a footprint unheard of compared to other cities of similar capacity. Designed around nature rather than over it, The Line will be surrounded by large, world-class, protected areas as 95% of the surrounding NEOM region will be part of a conservation area, the Kingdom added.
"THE LINE is a truly ground-breaking, world first project and we are proud to have the opportunity to bring our global engineering, digital and net zero expertise to help create a lasting legacy for the Kingdom and its people," said Philip Hoare, President, Atkins.
"As a Delivery Partner organisation, we will work closely with NEOM and our partners to seamlessly connect people, data and technology to drive innovation, value, efficiency and certainty on the project. Our combined intent is to radically transform the way major infrastructure projects are delivered and THE LINE, with its vision and complexity, provides a great opportunity to demonstrate what our industry can achieve."
The statement added that the idea of layering city functions vertically while giving people the possibility of moving seamlessly in three dimensions (up, down, or across) to access them is a concept referred to as 'Zero Gravity Urbanism'.
The development's infrastructure will be embedded with sustainable smart technology containing essential utilities and transportation services, generating car-free communities and public realms.
Dynamic Growth Market
"With over 50 years' presence in the Middle East, Atkins has played a key role in supporting the region's transformation by delivering some of its most iconic and complex projects," said Campbell Gray, Chief Executive Officer, Middle East & Africa, Atkins.
"Saudi Arabia is one of the world's most dynamic growth markets and we are committed to supporting the country's ambitions through our global engineering expertise, our in-depth local knowledge, and our investment in the Kingdom's future talent. As a Delivery Partner organisation, we will work closely with NEOM to drive value and efficiency by adopting innovative technologies and world-class sustainability standards."
Atkins has expanded its local presence in the Kingdom with regional offices in Riyadh, Jeddah, Al Khobar and AlUla, supporting clients in buildings and places, transportation, energy and water sectors. Some of the Company's key projects in Saudi Arabia include Diriyah Gate, Six Flags Qiddiya theme park, Riyadh Metro, and King Abdulaziz International Airport.