Cemex UK achieves CO2nstructZero Business Champion Status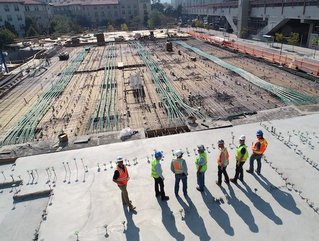 The construction industry.
Building materials supplier Cemex has been named as an official Business Champion of the Construction Leadership Council's CO2nstructZero programme.
CO2nstructZero facilitates collaboration between construction companies that are demonstrating initiative in relation to carbon reduction, sharing their good practice with others from across the sector, and providing a set of metrics that enables the industry, quarterly, to collectively measure its progress to net zero.
This is the latest commitment from Cemex as part of its ongoing efforts to be a net zero operation by 2050 in line with its Future in Action strategy, and demonstrates its continued leadership in this regard on every level; from local to global.
Cemex has previously signed up to the West Midlands Net Zero Business Pledge, the Mineral Product Association's roadmap to beyond net zero and the Global Cement and Concrete Association's net zero roadmap. Additionally, Cemex is a member of the Corporate Leaders Group Europe (CLG Europe), convened by the Cambridge Institute for Sustainability Leadership in support of a climate neutral economy.
Cemex's ambitious 2030 targets have been validated through the Science Based Targets initiative (SBTi) for alignment under their new 1.5ºC scenario, the most ambitious pathway defined for the industry. Strong progress has already been made, with a milestone 41 per cent reduction in the CO2 emissions generated by Cemex's European cement business in 2022, compared to the 1990 baseline.
Martin Casey, Director of Communications, Public Affairs & Social Impact for Cemex EMEA, commented: "Climate change is one of the biggest challenges of our time, and we will continue to address it as a fundamental component of our business strategy. We aim to lead the industry in sustainable construction and therefore feel very proud to have been recognised by the Construction Leadership Council as a Business Champion for the CO2nstructZero programme.
"We will continue to innovate and reduce our emissions ever further by developing building products and solutions that have significant positive sustainability attributes and contribute to the transformation of the construction sector."