Emerson to build state-of-the-art manufacturing hub at SPARK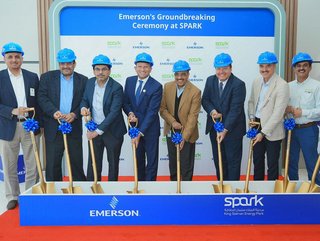 Innovation and manufacturing hub will expand firm's local capabilities and represents its largest investments in the MEA region
Emerson, the global technology, software, and engineering firm listed on the New York Stock Exchange, has announced that it will build a state-of-the-art innovation and manufacturing hub at the King Salman Energy Park (SPARK) in Saudi Arabia.
In a statement, Emerson said that the new hub would further expand its local capabilities, and would be one of its largest investments in the Middle East and Africa region. Slated to open in December 2024, the facility will provide industrial customers in the region with services for control systems engineering, staging and testing, manufacturing of differential pressure (DP) transmitters and control valves, pressure relief valve assembly and solenoid valve assembly.
"Our state-of-the-art innovation and manufacturing facility at King Salman Energy Park propels our expansion strategies in the Middle East and Africa region," said Lal Karsanbhai, Emerson's president, and chief executive officer.
"This investment represents a significant milestone in our mission to provide quality and reliable services for our customers in Saudi Arabia."
He added that the new facility will be constructed in accordance with the environmental sustainability principles to support Emerson's net zero emission goals, while also adhering to SPARK's environmental sustainability standards. Furthermore, the development of the hub in SPARK aligns with Saudi Arabia's Vision 2030, which is a strategic framework to promote local content and improve localisation.
Emerson is pursuing value chain localisation as part of the 'Made in KSA' initiative and has targeted supply chain localisation opportunities across its various products. As a result, the company is set to collaborate with local suppliers through extensive qualification processes, knowledge transfer, prototyping, and testing to ensure sustainability and self-sufficiency of its facilities in Saudi Arabia, Karsanbhai added.
Fully Integrated Industrial Ecosystem
The Saudi government's initiatives are designed to reduce the country's reliance on imports, while supporting the development of domestic capabilities in a range of sectors, including manufacturing, technology, and services.
"We are delighted to be officially launching construction of our new, advanced innovation and manufacturing hub in the Kingdom of Saudi Arabia," said Vidya Ramnath, president of Emerson Middle East and Africa." The new facility is positioned to offer our range of services to customers, while also supporting the company's net zero emission targets."
King Salman Energy Park (SPARK) is a fully integrated industrial ecosystem in the heart of the energy market. Spanning an area of 50 square kilometres, SPARK is being developed to become the leading gateway to the regional energy sector, providing a complete spectrum of solutions to support business growth in the Kingdom. It is also the first and only industrial city in the world to achieve silver LEED certification.
Execution is planned over three phases; with the first phase being nearly complete, which consists of infrastructure, roads, utilities and real estate assets established across 14 square kilometres. This is in addition to a dedicated three-square kilometres dry port and logistics zone.
Nabil Chaachou, VP Strategy & Business Development of SPARK stated: "We are pleased with Emerson's investment in SPARK and their trust in our ecosystem's unique value proposition. Our partnership with Emerson is another step in our commitment to championing the localisation of the value creation through dedicated industrial development that contributes to the local GDP, generates job opportunities, and supports socioeconomic advancement in the Kingdom.
"With a city that was master planned to seamlessly intertwine industrial areas with vibrant residential, educational, and commercial areas, we look forward to being the preeminent integrated global energy and industrial hub in the region and beyond," he concluded.