Bjelin makes full transition to clean energy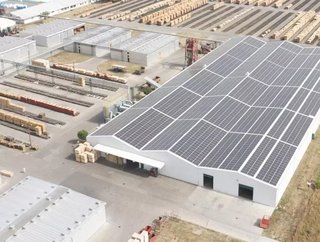 As Bjelin embarks on new clean energy strategy, the renewables sector remains a hive of activity
Sustainable wooden flooring company Bjelin is to make the full transition to clean energy, its owner announced today.
Bjelin's flooring production is partly powered by solar panels placed on the roofs of the facilities, but now the company, from the south of Sweden, is investing heavily in solar power in its transition towards energy self-sufficiency, according to Darko Pervan at Prevanovo.
"The environmental gains from the less harmful climate impact are obvious, and it also makes great business sense in the long run," he said, in a statement.
For Bjelin, the path to sustainability goes through innovation and development throughout the entire process; from the raw materials in the forests to manufacturing and sales of eco-certified flooring. The clean energy discussion has gained momentum through acquisitions and expansion of new manufacturing facilities in Croatia.
A wood processing plant in Spacva was recently acquired and the world's largest wooden flooring manufacturing factory is currently being built in Ogulin.
In addition, Bjelin owns several facilities in Otok and Bjelovar, both in Croatia, as well as a factory in Viken, Sweden. For all of Bjelins production units to become truly self-sufficient from solar power, large investments are required. Over time, Bjelin is confident that they will be able to justify the costs for the investments in clean energy and pocket the savings from reduced energy costs.
The factory in Spacva will be powered by a solar cell plant generating 2,9MW. The first stage at 1,0 MW is ready for use whereas the rest of the solar cells will be installed in the coming months.
There will also be a solar cell plant installed on the roof of the Otok facility. Taken together, when all Bjelins units are online, and including the solar cell plant that is already integrated in the Swedish unit in Viken, the group will generate 3,6 MW, equal to 225 single homes' annual average consumption of electricity.
Partnerships and funding pour into renewables
The market remains a hive of activity as companies seek to reduce their carbon emissions and boost sustainable practices.
RWE and PPC have joined forces to help accelerate the Greek energy transition by developing large-scale solar projects with a total capacity of up to 2GW in the country. Through this collaboration, the Greek power utility will continue to decarbonise its portfolio and move to renewable energy sources. For RWE, one of the leading producers of renewable power, it marks a first entry into the Greek market.
Katja Wünschel, COO Onshore and PV Europe and Asia-Pacific of RWE Renewables, said European collaborations are essential to making the energy transition happen. "Greece is a promising growth market for us, with its high solar energy levels and clear commitment to renewables. As one of the world's leading renewable energy companies we will contribute significantly with our experience and knowledge to ensure this cooperation is a success. Growing new renewable energies is the clear focus for RWE."
Last month EP Infrastructure (EPIF), Eustream, NAFTA and RWE Supply & Trading announced plans to jointly explore the potential development of blue hydrogen production facilities in eastern Slovakia.
Bridgelink Engineering has announced the acquisition of BCR Companies, a leading construction company in the renewable energy industry. Operating multiple locations across the US since 2012, BCR Companies provides general construction, civil and mechanical engineering for multibillion dollar solar and wind projects. 
Yesterday Vortex Energy, a global renewable energy platform managed by the private equity arm of EFG Hermes, entered into a definite agreement with Ignis Energy Holdings, parent company of Spanish independent integrated renewable player Ignis Group.
Vortex Energy will inject over €625 million through its newly launched Vortex Energy IV Fund and its co-investors into Ignis via a series of capital injections, which will be deployed over the coming few years subject to certain conditions. This will allow Ignis to fund its growth plans and transform into a fully integrated renewable IPP in Spain and other geographies.
European Energy has bought eight of Vattenfall's wind and solar assets, totalling 85.8MW. The sites are located in Denmark, Germany, the Netherlands and UK. European Energy will take over the day-to-day operations of the renewable assets.