Global modular construction market to reach £82.6bn by 2025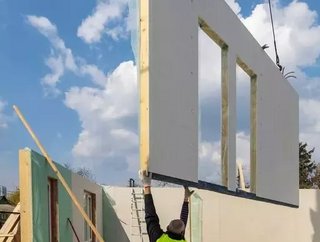 ResearchandMarkets.com report finds increased interest in permanent modular construction is being driven by sustainability growth...
The global modular construction market is projected to grow from £65.4 billion in 2020 to £82.6 billion by 2025, at a CAGR of 5.7 percent, according to a report from ResearchandMarkets.com, as interest rises in the cost-effective construction method.
Modular Construction Market by Type (Permanent, Relocatable), Material (Steel, Concrete, Wood), Modules, End-Use (Residential, Retail & Commercial, Education, Healthcare, Office, Hospitality), and Region - Global Forecast to 2025, discovered critical trends such as shorter project schedules, housing shortages, economic construction demand and reduced workforces are factors that are driving the growth of the volumetric modular construction method - as well as the constant scrutiny on sustainability.
"The growth of the modular construction market is attributed to an increase in concern towards work-zone safety, the need for lower environmental impacts, and supportive government initiatives," the report says.
"In terms of value and volume, permanent modular building is estimated to dominate the modular construction market in 2019," it adds.
Permanent modular construction (PMC) is a building technique that utilises offsite manufacturing methods to prefabricate single and multistorey structures in modular sections. As PMC can be assembled into an existing structure or built to stand independently, the method offers several benefits, including sustainability, efficiency, and cost reduction as the modules can be completed with MEP, interior finishes, fixtures, and appliances. 
These modules are then brought to the construction site and using equipment such as cranes and other lifting and rigging tools, can be set on the foundation of the building, and joined together to create a single structure. Pickstock Construction's Sherbourne House in Coventry is pictured.
In modular construction, buildings are typically constructed with a steel frame, cold form steel wall panels, and hot-rolled steel framework. In terms of material consumption, steel accounts for the largest share in the modular sector as it is known for its strength-to-weight serviceability.
Steel frames also offer numerous advantages over wood-framed relocatable buildings such as design flexibility, strength, structural integrity, durability, security and fire resistance, thereby reducing the need for repairs and maintenance throughout the structure's lifespan.
"In terms of value and volume, steel is projected to be the fastest segment in the modular construction market from 2020 to 2025," the report adds.
The fastest growing segment of the modular construction market is predicted to be the office segment, with the method offering fully functional, and portable office space that can be easily modified if and when required.
"Companies are increasingly demanding modular offices as it doesn't disrupt the ongoing working environment and at the same time is requires less time on-site construction, compared to traditional construction. A relocatable modular office is an effective solution that allows the companies to proceed with business as usual," the report says. 
"This prevents loss of revenue during the remodelling process. Modular offices are also widely used by contractors who require a temporary office space to work on their latest projects. These modular offices can be moved to another location anytime, and one office can be used for multiple jobs."
Finally, in terms of both value and volume, the Asia Pacific modular construction market is project to grow at the highest CAGR during the forecast period, the report states.
"Factors such as the ready availability of raw materials and manpower, along with sophisticated technologies and innovations, have driven the growth of the economy in the Asia Pacific region. According to the World Bank, the two economic giants of the Asia Pacific region, China, and Japan, are the world's second- and third-largest economies as of 2019," it concludes.