Lendlease delivers new Sydney harbourfront space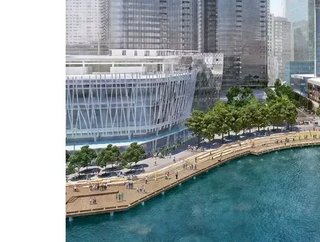 Watermans Cove is part of Barangaroo – Australia's first carbon-neutral precinct – and comprises 9,500sqm of waterfront public space...
Lendlease, the Australia-based multinational construction, property, and infrastructure company, has handed over Sydney's newest harbourfront public space – an amphitheatre-style cove and boardwalk – to the New South Wales government, following almost two years of construction work.
Designed and delivered by Lendlease, in partnership with the NSW government, Watermans Cove delivers close to 9,500sqm of waterfront public space for gatherings, celebrations and reflection in the heart of Barangaroo in the Sydney Central Business District.
The project marks an important step in the transformation of Barangaroo – Australia's first carbon neutral precinct – from a 22-hectare concrete container and cruise ship terminal, into a vibrant, world-class commercial, residential and leisure project. Work on the Barangaroo project began in 2010, with Watermans Cove joining Wulugul Walk, Hickson Park and The Streets of Barangaroo. More than half the entire precinct will be returned to the people of Sydney as public space for exploration and enjoyment, according to a statement.
"From the outset of the development of Barangaroo, Lendlease and the NSW Government have shared a vision to create a sustainable, world-class place where the community thrives," says Steve McCann, Lendlease Group CEO and Managing Director. "Watermans Cove is another example of this shared vision and commitment coming to life."
The Cove will form part of a 14-km continuous foreshore urban walking route from Garden Island in Woolloomooloo, through to the fish markets in Pyrmont once the foreshore alongside the Central Barangaroo development is completed by the NSW government next year, Lendlease says.
Furthermore, the precinct will burnish its environmental credentials by creating a new marine habitat in the Cove, through a partnership with the Sydney Institute of Marine Science.
Once the handover has been completed, Watermans Cove will be owned and managed by the state government agency, Infrastructure NSW. "We've hit the mark at Barangaroo, delivering Australia's first carbon-neutral precinct and returning more than half of this previously inaccessible space to the people of Sydney," McCann states.
Once fully complete with a new Metro station, more than half of Barangaroo will be dedicated public space, encompassing a continuous Sydney Harbour promenade, expansive parklands, plazas and coves, says Infrastructure NSW.
The various projects being managed or overseen by Infrastructure NSW include:
Completion of Barangaroo South which will include Watermans Cove and Hickson Park, Renzo Piano's One Sydney Harbour residential buildings, Crown Sydney Hotel Resort and a new public pier.
Development of the Central Barangaroo section of the precinct
Upgrade of Hickson Road 
The Barangaroo Sydney Metro station
Lendlease is set to open a multi-million dollar digital construction centre in Singapore this month. The firm aims to create 'a scalable supply chain and integrated logistics software platform for property development and construction projects'.