Three key appointments to drive DGP's infrastructure growth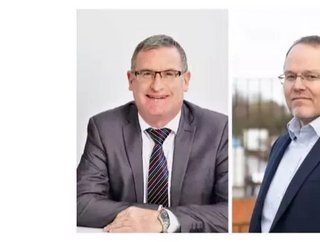 DGP has strengthened its newly formed UK infrastructure arm with three key appointments...
DGP has strengthened its newly formed UK infrastructure arm with Dave Pateman (Managing Director), Michael McMillan (Operations Director) and Darren Ramsay (Non-Executive Director) among its key appointments.
Ramsay brings 36-plus years' experience in contracting, particularly in the infrastructure sector, including executive leadership positions with JN Bentley and J. Murphy Group. 
As the Managing Director at J. Murphy Group, he influenced the business strategy to support growth, advancing the £450 million business to a circa £1 billion organisation with multiple profitable divisions, including key infrastructure sectors such as Water, Utilities, Rail, Power, Tunnelling & Piling.
Pateman most recently held the position of Commercial Director with Balfour Beatty Major Projects, where he was a member of the Senior Leadership Team working with HS2 Area North. Prior to that, he amassed over 31 years' experience across major projects in Rail, Air, Civil Engineering, Utilities and Telecommunications. 
McMillan joins DGP Infrastructure with over 17 years professional experience working in various sectors including Highways, Civils, Rail, Local Authority and Utilities. He brings over six years' experience with the Kier Group (Highways), where he oversaw multimillion pound budgets to deliver maintenance and operations activities, including the recent M20 Smart Motorway. His earlier career saw him working within the design team at Mott MacDonald before moving on to Balfour Beatty/Mott MacDonald JV, on behalf of the Highways division.
Ramsay said he was excited to be working in parallel with the existing DGP businesses and newly appointed DGP Infrastructure Leadership Team. "As we start our journey to develop our future business strategy and grow the business, we seek to encompass the many opportunities that will emanate from the expanding UK infrastructure sector," he said.
The newly created roles will see the trio charged with growing the DGP Infrastructure Contracting business alongside DGP Logistics Group Managing Director Saheb Dhesi.
According to the World Economic Forum, the UK was ranked 11th out 141 countries in terms of the overall quality of its infrastructure in 2019. There is broad consensus that over the past 40 years the UK has under-invested in infrastructure.
Pre-COVID, UK regional investment strategies revolved around growth. Now even infrastructure projects at the UK regional level are evaluated on the basis of the stability they will deliver to local economies, companies and workers (click here).