First Bricks Laid in Bjarke Ingels Lego House, Billund, Denmark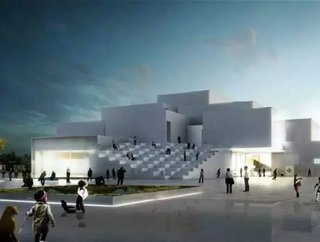 Three generations of the LEGO family, Lego Group CEO Jørgen Vig Knudstorp, Billund City Mayor Ib Kristensen and architect Bjarke Ingels this week...
Three generations of the LEGO family, Lego Group CEO Jørgen Vig Knudstorp,  Billund City Mayor Ib Kristensen and architect Bjarke Ingels this week kicked off the construction for the 12,000 sqm, 23m tall Lego House in Billund, Denmark.
While the interior experiences of the LEGO House are still under development, the building is in itself a tribute to the LEGO brick, as the architectural shapes are based on the LEGO brick.
The BIG-Bjarke Ingels Group behind the project describes it as a "hands-on minds-on experience centre where LEGO fans of all ages can come and experiment with LEGO bricks, share stories with LEGO bricks, express their imagination and creativity through LEGO bricks, and not least be challenged as LEGO builders by meeting other builders from all over the world."
When construction of the LEGO House is completed in 2016, a gigantic LEGO brick will sit on top of the structure, the interior of which will feature large 'experience areas', a café, and unique LEGO store. Outside will be a 2,000 sqm public square as well as several open roof terraces.
It is expected that approximately 250,000 people will visit the LEGO House annually once it opens in 2016.
Bjarke Ingels, Founding Partner of BIG Group, said: "For me the LEGO brick embodies the notion of systematic creativity – that the rigour and rationality of the LEGO brick allows children of all ages infinite possibilities to create their own worlds and to inhabit them through play. We have been inspired by the modularity of the LEGO brick to create the LEGO House. It will appear like a cloud of interlocking LEGO bricks that form spaces for exploration and exhibition for its visitors within. On the outside the pile of bricks form the roof of a new covered square as well as a mountain of interconnected terraces and playgrounds." 
The LEGO house is part of the Group's contributions to its home-town Billund as the 'Capital of Children'. The own launched an architectural contest in 2009 to steer the future development and planning of the area, of which the Capital of Children proposal was the winner.
Capital of Children operates a number of projects in Billund, in collaboration with other companies and organisations that wish to contribute to the vision of making Billund a global meeting place for children, to encourage play, learning and creativity.