HS2 launches first of 10 Tunnel Boring Machines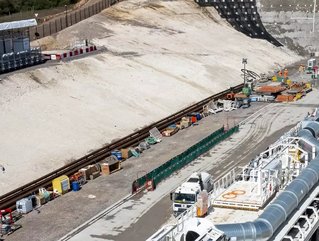 The 2,000-tonne Florence Tunnel Boring Machine will dig the first of a pair of 10-mile long tunnels under the Chiltern hills
HS2 will today launch the 2,000-tonne tunnel boring machine (TBM) from its South Portal site next to the M25 in Buckinghamshire, at an event attended by HS2 Minister Andrew Stephenson and HS2 CEO Mark Thurston among others.
The launch of 'Florence' - in honour of nursing pioneer Florence Nightingale - marks the first of 10 giant tunnelling machines that will dig 64 miles of tunnels between London and the West Midlands in the high-speed rail project.
The TBM will dig the first of a pair of 10-mile long tunnels under the Chiltern hills and help to safeguard the woodland and wildlife habitats above ground. A second machine 'Cecilia' will launch next month to excavate the second tunnel at the South Portal site. Designed specifically for the mix of chalk and flints under the Chilterns, the two identical TBMs will dig separate tunnels for north and southbound trains. Click here to watch an animated video.
The first two TBMs will be operated by HS2's main works contractor, Align – a joint venture formed of three international infrastructure companies: Bouygues Travaux Publics, Sir Robert McAlpine, and VolkerFitzpatrick.
Each machine operates as a self-contained underground factory - digging the tunnel, lining it with concrete wall segments and grouting them into place at a speed of around 15 meters a day. Each tunnel will require 56,000 precision engineered, fibre-reinforced segments – which will all be made on site.
A crew of 17 people will operate each TBM, working in shifts to keep the machines running 24/7. They will be supported by over 100 people on the surface, managing the logistics and maintaining the smooth progress of the tunnelling operation.
Transport Secretary Grant Shapps said the launch of the first giant tunnelling machine on HS2 is not only a landmark moment for the project, but "ground-breaking evidence" of levelling up transport links across the UK, supporting thousands of jobs and hundreds of apprenticeships in the process.                                                   
"The work has truly begun on taking HS2 northwards," he said. "The tunnels these machines dig will ensure the benefits of our new high-capacity, high-speed railway run to the great cities of the North and Midlands, forging stronger connections in our country, boosting connectivity and skills opportunities and transforming our transport links."
More than 16,000 jobs and over 500 apprenticeships are already being supported by the project, which is set to transform transport links between Britain's major cities, free up space on the rail network for more freight and local services and support the UK's transition to net zero carbon emissions.
HS2 Chief Executive Mark Thurston agreed the launch was a major moment of progress for the HS2 project as it strives to deliver a high-speed railway and low-carbon alternative for long-distance jouneys across the UK. 
Chalk excavated from the tunnels will be used for landscaping at the south portal site once construction is complete, creating wildlife-rich chalk grassland habitats across 127 hectares of the southern Chiltern hills.
Align Project Director, Daniel Altier, said: "The TBMs include a number of innovations to improve efficiency and the safety of the environment in which the crew will be working, that have never before been introduced on any previous TBMs, worldwide. I would like to thank everyone in our integrated project team that includes Align, our design partner Align D and HS2, working closely with our suppliers, for all their hard work that has enabled us to get to where we are today, culminating in the launch of Florence."
Align is recruiting 1,200 personnel in total, including 100 apprentices, to work on the Central 1 Area of HS2 Phase One that it is delivering. Align are targeting their recruitment and investment in upskilling local people who are currently unemployed, with a particular focus on women, the under 25s and those with disabilities.
Built by Herrenknecht, at its factory in south-west Germany, the two 170m long machines were transported to the UK in more than 300 separate shipments last year, before being reassembled, tested and commissioned by an expert team of tunnelling engineers at the Chiltern tunnel south portal site, near the M25 to the north-west of London.
The high-speed rail project continues to run into opposition. The Chiltern Society has warned that the chalk aquifer – which it says provides drinking water to thousands of people in the region – is "under threat" from HS2's planned operations for the 10-mile long tunnels, while Buckinghamshire Council said it will be keeping "a close eye" on HS2's concrete batching plant at Calvert.
Ian Thompson, Corporate Director for Planning, Growth and Sustainability at the council, said it has always fundamentally opposed the construction of HS2 and fought proposals through every stage. "Not only do we disagree with the strategic case for the line, but most of all because of the devastating environmental damage and impact of the works on local communities," he said. "Monitoring of dust will be taking place from mid-May and we will be closely monitoring the plant throughout its construction and when it is in operation and use all the powers we have to hold HS2 and its contractors to account."
While the business community is keen to see improved high-speed links, it remains to be seen whether commuter travel returns to pre-crisis levels in a Zoom-oriented digital era.