Masdar, PT PLN begin work on floating PV solar project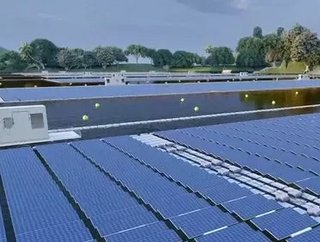 Masdar and Indonesian electrical power organisation PT PLN and have started constructing a 145MW photovoltaic (PV) floating solar project in West Java
UAE-based renewable energy company Masdar, in partnership with PT PLN, an organisation specialising in electrical power and owned by the Indonesian government, has announced today it has started work on a floating photovoltaic (PV) solar project in West Java. The company says the 145MW plant is the first of its kind in the country. The project, which will be constructed on the Cirata reservoir in West Java, was financed by the Sumitomo Mitsui Banking Corporation, Societe Generale, and Standard Chartered Bank. 
Developing the project is PT Pembangkitan Jawa Bali Masdar Solar Energi (PMSE), a joint venture between Masdar and PT PLN subsidiary PT PJBI. Bahlil Lahadalia, Minister of Investment for the Republic of Indonesia and chairman of the Indonesia Investment Coordinating Board, said: "This is a flagship project of the UAE's investment in Indonesia, and most importantly, it is in line with the Indonesian Government's target to increase renewable energy by 23% by 2025."
Ladhadalia added: "The Ministry of Investment fully supports the investment realisation of the Cirata Floating Solar Project by PT PJBI and Masdar." The plant is said to be the largest in south-east Asia, and one of the biggest in the world. Around 800 jobs will be created during its construction phase. 
During the project's development, Masdar has conducted several social initiatives to raise awareness of sustainability and strengthen the engagement of the local community. Talking about the partnership with Masdar, Amir Faisal, president director of PJBI, said: "We see tremendous potential for similar projects in Indonesia and we look forward to continuing our fruitful collaboration with Masdar to work on more renewable energy projects and help our nation achieve its clean energy objectives. 
"This floating power project is a first for Indonesia and is also a significant step in PJBI's renewable energy journey," he added. 
 Facts about solar energy
Solar power is the most abundant energy source on earth: There's enough solar energy reaching the earth every hour to meet all of humanity's power needs for a whole year.

The cost of solar panels has fallen by 99% since 1977: The price per watt for a single solar cell in 1977 was US$77. Today that same cell costs Us$0.21 per watt US$0.39 per watt for an assembled module, according to the

Solar Energy Industries Association

.

China is the global leader in solar energy: Whilst solar power is increasing in popularity in the US, China is currently the country with the biggest uptake. Research conducted by GTM in 2017 predicted that the US would install 12.4GW of solar power during that year. China, on the other hand, installed 24.4GW of power in the first half of 2017 alone. 

Image: Masdar