Scoop appoints POD Architects to redesign Stirling's retail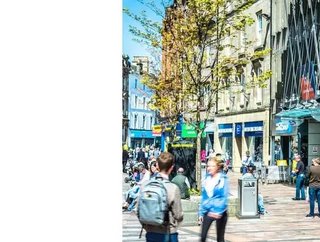 Scoop has appointed POD Architects to reconfigure The Thistles Shopping Centre in Stirling - as town centres face major challenges up and down the land...
UK towns and cities up and down the country are looking how to 'future proof' their high streets amid the ongoing supremacy of online shopping and steep drop in revenues during the pandemic.
The British Retail Consortium reports non-food retail stores will have lost £30bn in foregone sales over the three lockdowns. The Centre for Retail Research states 188,685 retail jobs were lost between March 23 2020 and March 31 this year, and there have been 15,153 store closures. 
High streets, already suffering pre-COVID with the rise in online shopping, now face unprecedented pressures to survive.
Now the retail and construction sectors are fighting back. England's retailers make their long-awaited reopening on Monday and non-essential retail is scheduled to reopen on April 26 in Scotland.
Scoop has appointed POD Architects to start the reconfiguration of The Thistles Shopping Centre in Stirling - a 500,000sq ft space housing 90 units. Most, if not all, of the anchor tenants now have a strong online presence, but the centre remains at the heart of the community.
Mark Hewett, Director at Scoop, said the high-street is expected to take on a very different form post-Covid. "Future-proofing is vital to ensure primary shopping centres remain relevant and a place where people want to be – they will be about far more than just shopping. We are looking forward to evolving The Thistles Shopping Centre to ensure it remains the beating heart of the city."
Paul Shedden, Founder of POD Architects, said requirements for retail, and shopping centres in particular, have changed in recent years as more people seek superior retail experiences to draw them out of their homes. "We aim to produce creative and exciting destinations which draw people in. We look forward to embarking on this exciting journey with Scoop," he said.
Andy Sumpter, Retail Consultant EMEA for Sensormatic Solutions, said after a year of yoyo-ing in and out of lockdown, retailers will be hoping for stability and, once again, will be counting on the continued support of shoppers if any sort of bounce back is to be sustained. "Having invested heavily to ensure their stores remain as safe as possible for shoppers to return, the onus is now on the consumer to vote with their feet and 'use or lose' the shops they previously frequented," he said.
In line with reducing car emissions and encouraging cycle use and walking, towns are looking at how they can make themselves more connected to communities.
The Ipswich Vision Partnership - which includes local councils, the town's MP and business groups - has unveiled bold plans to create a "connected centre", using some of the £25million Towns Fund cash promised at this year's Budget. A £3.2 million bid to upgrade Dover's town centre has been successful.