World's first all-timber football stadium wins approval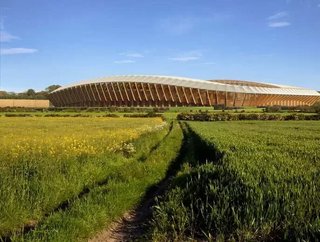 UK firm, Zaha Hadid Architects has won planning permission for the world's first wooden football stadium. It will be the home of Forest Green Rovers Foo...
UK firm, Zaha Hadid Architects has won planning permission for the world's first wooden football stadium. It will be the home of Forest Green Rovers Football Club in Gloucestershire. 
Upon completion, the ambition is to be the world's greenest football stadium, constructed entirely from timber and powered by sustainable energy sources.
The first application for the 5,000-seater timber stadium was blocked in 2019. However, this second attempt was successful and approved by Stroud's local council.
The second application was changed to include an all-weather pitch and a different landscaping strategy. This was to alleviate concerns that the stadium design did not offer a significant compromise for the amount of green land that would be lost for its construction.
Another feature was a much-improved match day transport plan after the committee voiced concerns about the volume of noise and traffic from visiting football fans. 
The council also had major concerns that the height of the stadium, 20-metres, could detract from the views of nearby historic hamlets. They also had fears that a £7 parking charge could tempt people to park for free on verges instead.
Zaha Hadid Architects originally won the competition to design the stadium back in 2016. The whole structure will be built entirely from resourced wood, including the louvred cladding and cantilever roof.
A specialist membrane will cover the stadium. This will allow the grass to grow naturally under the sunlight whilst reducing shadows that could distract players and the crowd during the action. 
The football club is chaired by Dale Vince, founder of green electricity company Ecotricity. This connection was the driving force behind the need for renewable energy for the current and long term objectives of the club. 
The stadium will be the phase of the new Eco Park, a green science commercial enterprise park planned for junction thirteen of the M5 motorway.
SEE ALSO:
Forest Green Rovers has already been named the world's greenest soccer club by using FIFA due to their sustainable management. The players have adopted a vegan eating regimen to limit their carbon footprint, and solely vegan meals are served on in shape days.
The contemporary stadium has an organic grass pitch watered with recycled rainwater and makes use of photovoltaic panels to power its floodlights. The pitch is mowed through an electric-powered "mow bot" that makes use of GPS technology. It robotically cuts the grass, with the grass clippings given to neighbourhood farmers to put on their soil.
Kengo Kuma has recently executed the latticed wooden National Stadium in Japan, for the Tokyo 2020 Olympics, which has a metal canopy. The unique design by Zaha Hadid was controversially scrapped in 2015.
Images are by Negativ.