CEMEX Ventures: Innovation, contech and startups: Open Call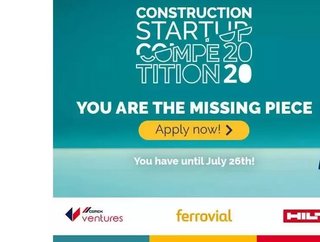 CEMEX Ventures launches Construction Startup Competition 2020 - Open call for construction tech startups...
CEMEX Ventures launches Construction Startup Competition 2020 - Open call for construction tech startups
As we reach the second semester of 2020 the aftermath of COVID-19 becomes more evident in various industries. 
The construction sector, one of the biggest industries in the world worth over $12 trillion and covering close to 13% of the global GDP, is gearing up to face some tough challenges. 
Nonetheless, innovation and the implementation of digital solutions in the construction sector will see an expedited route. 
The pandemic effect gave an opportunity to fast-track the industry's digital transformation, and Contech startups with innovative solutions can be of great help. One way that they can reach well-established corporations and promote transformation is by participating in Construction Startup Competition 2020! 
Startups that offer solutions fit to solve the industry's challenges, and that participate in the competition, will have the opportunity to be evaluated by CEMEX Ventures, Ferrovial, Hilti, VINCI Group´s Leonard and NOVA by Saint-Gobain. 
This powerful alliance serves to break the paradigm of a fragmented industry and comes in a moment where innovation is crucial in the sector.
Due to coronavirus, many projects worldwide were paused, and the economic uncertainty presents a risk for future developments. 
Add this to the already known lack of productivity in projects, with many taking 20% more time to finish than scheduled, significant amounts of over-budgeting, the aging workforce and difficulty of hiring new employees, and you see that the cry for help in the sector is considerable. 
This gives entrepreneurs an incredible opportunity to promote solutions that can solve these challenges, prevent new ones from surfacing, and push for disruption in the industry. 
The hope relies on past years' investment activity, which shows that, although at a slower pace than many other industries, construction is on route to becoming more innovative. 
By 2030, it's expected that over $57trn globally should be spent on infrastructure. 
We can see some examples in the acquisition of Viewpoint by Trimble for $1.2B, and Autodesk buying Plangrid for $875M and BuildingConnected for $275M. Likewise, startups in the Contech ecosystem have raised significant funding in recent rounds. 
For example, CEMEX Ventures' portfolio companies StructionSite and GoFor secured $7M and $9.8M, respectively. Other startups worth highlighting are Briq, which raised $10 million, and PlanRadar with another $30M, both in series A rounds.  
As for emerging disruptions that will transform the construction value chain, Construction Startup Competition 's organisers are in line with the trends reflected in the industry. 
Off-site construction, the use of robotics, 3D printing technologies, innovative building materials, and the digitalisation of products, design and processes are some of the areas that will transform the industry as we know it today. 
All eyes from leading companies and investors will be put on Contech startups working with solutions that can help bring more value to the sector and overall, make it better, more efficient and future-ready. 
With Construction Startup Competition 2020, CEMEX Ventures and its four partner s make a strong bet on entrepreneurs that are fostering the construction revolution.  
There is no better moment to do so. Apply before 26 July.