Construction starts on Pittsburgh Zoo Asian Lantern Festival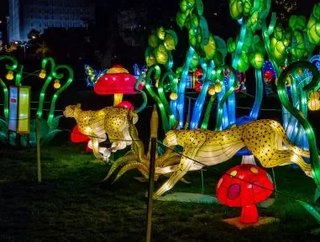 Chinese lantern festival producer, Tianyu, are constructing lanterns made from steel and coloured silk for Pittsburgh Zoo's Asian Lantern Festival
Tianyu, the largest Chinese lantern festival producer in North America has begun preparations for Pittsburgh Zoo's first Asian Lantern Festival by constructing lanterns that will be displayed at the event. 
The company, based in Sichuan, China has a team of 10 artists and one translator who have been working at Pittsburgh Zoo since mid-July. The lanterns are constructed using steel and coloured silk and are lit up by LED lights. Lantern designs include a frog, a 100-foot-long dragon, and a flock of flamingos. 
Despite facing challenges with transporting the lanterns, Allan Marshall, Vice President of Internal Relations at Pittsburgh Zoo, is pleased with the progress. "We've been working really closely with these guys, between working with our electricians here to provide power supplies and … working with our horticulture team because we've got a lot of valuable plants in the area. Once it's all set up and running, it's just going to look spectacular."
Attendance at Pittsburgh Zoo fell in 2020 due to the Coronavirus pandemic. However, the zoo hopes that the festival will help those numbers to return. "We realised very early in the pandemic that it was going to have a significant impact on our attendance and our operations…. It had a significant impact on what we were able to do last year. "This lantern festival, I think, is really going to help us come back out of that hole from last year," Marshall said. 
US customers ready to return theme parks and other attractions
According to research by Oracle and Merlin Entertainments, US customers, as well as those in the UK, feel ready to return to theme parks, attractions, and other leisure destinations. 
According to the study, there was a 12% in consumers based in the United States returning to leisure activities, increasing from 68% in May to 80% in June. In the UK, 80% of consumers surveyed said they were "optimistic about visiting leisure attractions with friends and family. 
Lee Cowrie, Chief Technology Officer at Merlin Entertainments, said: "After a difficult year, with limited entertainment, guests are excited about a summer of fun. With the 'Joy of Looking Ahead' effect in full flow, our customers want to plan and purchase ahead too. Pre-ordering meals, refreshments, photos, and checking-in online are all happening before they even arrive.
"Our guests are excited about feel-good experiences, but they want to feel safe and in control at the same time. For Merlin, the pre-planning technology we're bringing in offers guests the ability to tailor and personalise their stay while allowing us to flex our business to allow for things like social distancing, staff support, and food and beverage pre-ordering," Cowie added.