Top 10 construction_global
Top 10 unusual green buildings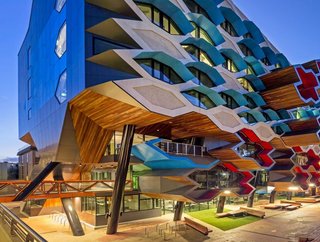 10. La Trobe University, Institute for Molecular Science, Australia Constructed in 2009, La Trobe University, Institute for Molecula...
10. La Trobe University, Institute for Molecular Science, Australia
Constructed in 2009, La Trobe University, Institute for Molecular Science (LIMS) has a distinctive cellular design, encompassing over 30 laboratories, seated auditorium and over 200 square metres of educational facilities. The institute undertakes research in molecular design, imaging and neurobiology, alongside work under associated biotech companies Hexima and AdAlta.
The institute cost $97 million and was designed by Lyons to a 5 Star Green Star Standard. Encompassing six floors, the build unites all academics and provides essential spaces for interaction and study. First to third year students are situated on the lower levels, whilst the top three levels are predominately focused around collaborative working and flexible working spaces.
9. Fusionopolis, Singapore
Designed by architect Ken Yeang, Fusionopolis has become an iconic research institute situated close to a number of universities in Singapore. Incorporating a number of sustainable features, the build deflects increased sunlight through inbuilt prisms, with a number of green plants which support the heating and cooling of the building, along with providing a sufficient irrigation system.
Developed in two phases, with the first phase completed in 2008 and phase two in 2010, the towers were also built in partnership with Ove Arup & Partners and architect Dr Kisho Kurokawa.
8. MMAA, Qatar
This glass, cactus shaped office building, constructed for the Minister of Municipal Affairs and Agriculture, was designed by Bangkok company Aesthetics Architects GO Group, and has been built with biomimicry and energy efficiency in mind.
The build resists ample sunlight through inbuilt shades which deflect heat, at which the internal temperature of the building is kept stable. Adjacent to the building is a botanical garden, which also supports the heating and cooling of the building.
7. Atoca Train Station, Madrid
The largest station in Madrid, Atoca Train Station is one of the most appealing stations in the world as a result of its inbuilt green space.
The botanical garden contains over 7,000 trees and plants which span 13,000 feet. A number of native and tropical trees gain sufficient sunlight through an arched skylight. A turtle pond has also been embedded into the green space, alongside an array of fish species, all of which are taken care of by the station's staff.
6. Vauban Freiburg, Germany
Vauban might be one of the smallest districts in Germany, but it is also one of the most sustainable places to live in the world. All eco-friendly homes have been constructed to a low-energy standard, utilising renewable energy sources. Transport systems are used by all, alongside sustainable transport such as walking and cycling, with the elimination of cars. 
With the majority of amenities situated in close distance from one another, areas such as waste and rainwater are also repurposed, providing a sustainable and ecological system.
5. Atlas Hoi An Hotel, Vietnam
Completed by Vo Trong Nghia Architecs and named as a UNESCO World Heritage Site, the Atlas Hoi An Hotel encompasses a number overflowing plants, which are situated in cantilevering concrete planters. Built predominately out of local sandstone, the build blends in with the tranquil space, and is in walking distance from a number of local attractions.
Containing 48 rooms, concrete slabs help support the heavy concrete planters which provide sufficient shade and oxygenation.
4. Mountain Forest Hotel, Guizhou
Spanning over 400 acres is Stefano Boeri's Mountain Forest Hotel. Situated in Guizhou, the build aims to blend in with the local landscape through reconstructing the former hill which was previously flattened in order to create a vertical forest mountain. With 250 rooms, the building is covered with trees on every floor, creating a sustainable and breathable space.
Designed in collaboration with local artist Simon Ma, the duo have pointed out on their website  that "symbiosis is the goal. Sustainability not only depends on energy conservation, but on a wider biodiversity. The symbiosis between man, architecture and nature is the real sustainability."
3. Bosco Verticale, Milan
Completed in 2014, Milan's Vertical Forest residential towers encompass 900 trees, 11,000 perennial plants and 5,000 shrubs, which would normally be situated on 7,000 square metres of land.
Designed by Boeri Studio, one tower spans 110 metres and the other 76 metres, with trees reaching heights of three and six metres respectively. This has enabled the buildings to counteract levels of pollution, absorption of CO2 and filtering of dust and dirt, creating a sufficient microclimate and biodiversity.
Winning a number of awards, the towers link the city with the natural world. Built by over 6,000 construction workers, the trees also reduce noise pollution and extreme weather conditions.
2. Queen Elizabeth Olympic Park, London
Since the 2012 Olympic Games, designers and architects have been striving to build one of the most sustainable parks in the UK, embedding green infrastructure and low carbon designs within this space. Free to visit and spanning 560 acres, Olympic Park is now home to the London Stadium, an aquatics centre, hockey and tennis centre, playgrounds and much more.
With 15 acres of wood and 6.5km of waterways, the development has integrated with local wildlife, utilising green technologies and sustainable transport links. Over 5,000 local individuals worked on the park's construction, with an estimated 15,000 new roles situated at the park upon completion.
1. Gardens by the Bay, Singapore
Designed by Grant Associates and Wilkinson Eyre, Singapore's Gardens by the Bay has become an exciting construction and vibrant space for visitors and locals to enjoy. With a number of horticultural displays, the build has transformed Singapore into a "city in a garden", creating permanent areas of conservation through a continuous energy cycle.
Spanning over 100 hectares, the gardens are split into three main areas: Bay South, Bay East and Bay Central, containing gardens, lakes and two self-sufficient glass biomes, Flower Dome (1.2 hectares) and Cloud Forest (0.8 hectares). The domes incorporate over 90,000 plants which are supported by several sustainable features.
Manmade Supertrees also enclose approximately 160,000 plants, with 11 out of 18 Supertrees containing inbuilt tanks which lead directly into the cooling of the domes, but also harness photovoltaic cells on their canopies to harvest solar energy. To support this further, lakes also incorporate a natural filtration and irrigation system, which is utilised to filter captured water throughout this energy cycle.