Coastal Construction Group establishes multifamily division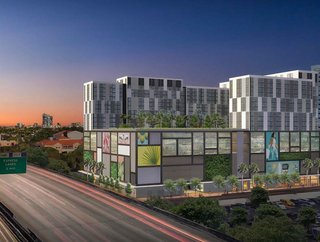 Sawyer's Walk in Miami's Urban Core.
The Multifamily Housing division will allow the company to expand on its experience in the South Florida attainable housing sector.
Coastal Construction Group, one of the largest privately held construction companies in the Southeast of the US, has announced an Attainable Housing division within its Multifamily Housing sector that will focus on the affordable housing needs of the South Florida community. The division will work with local governments, municipalities, and developers on the construction of affordable housing, workforce housing, market-rate housing, affordable senior living, and similar development projects throughout South Florida.
Coastal has appointed construction industry veteran Hernan Acurio to lead the Attainable Multifamily Housing division.
Acurio is a graduate of Florida International University with a BSCE and an MS in Construction Management. In his more than a decade of construction experience, he has managed, led, and provided operational planning on projects. Most recently, Acurio successfully completed HUD housing projects, where he oversaw day-to-day on-site project management while supporting and guiding construction teams to ensure success at all levels.
"Coastal is invested in hiring the most experienced in this market sector. By working with the most seasoned professionals, smarter building materials and processes, and new technology, we will be a part of the solution to better address the housing shortage," said Tom C. Murphy, Co-President, Coastal Construction Group.
With more than five decades of building in Florida, Coastal has long specialized in commercial, hospitality, single and multifamily residential, educational, and government-related facilities. Coastal's expertise in the multifamily residential market, with almost 20,000 units of residential work across South Florida, allows the company to work closely with owners to achieve unique solutions to meeting budgets and schedules. The Attainable Multifamily Housing division will allow the company to expand upon its experience in the attainable housing sector and play a pivotal role in addressing the housing crisis.
Coastal's past attainable housing projects include Poinciana Village, in Key West, and Oasis and Shepherd's Court, in Miami. Coastal is currently building Sawyer's Walk in Miami's Urban Core, an 18-story mixed-use project with 578 affordable studios and one and two-bedroom apartments reserved for low-income seniors developed by The Swerdlow Group and SJM Partners in collaboration with Southeast Overtown/Park West Community Redevelopment Agency.
"Working with Coastal Construction has been a wonderful experience for us. They are responsive to all of our needs," said Nick Swerdlow, Vice President of The Swerdlow Group.
ABOUT COASTAL CONSTRUCTION GROUP
Coastal Construction Group and the Murphy family have been building projects throughout Florida for more than five decades and have become one of the largest general contractors in Florida. Coastal currently has operations in Miami, West Palm Beach, Naples, Orlando, Tampa, and the Florida Keys. Coastal specializes in hospitality, single- and multifamily residential, education, commercial, and mixed-use projects.
The company's portfolio includes Four Seasons Hotel and Residences at the Surf Club; St. Regis Resort & Residences Bal Harbor; Ritz-Carlton Hotel South Beach; Faena Hotel and Residences; 1450 Brickell; Camillus House; Porsche Design Tower; Fendi Chateau; Oceana Condos; Residences by Armani Casa; Aston Martin Residences; and The Plaza Coral Gables. In addition, the Company was the primary builder for Ocean Reef Club, Deering Bay Club, Miami Design District, Miami Worldcenter and Water Street Tampa.