Dar Al Handasah expands operations with office in Poland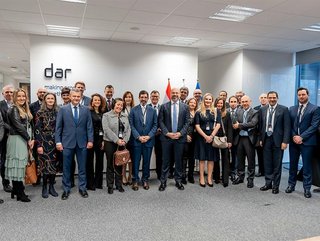 New Warsaw office will support Dar as Master Civil Engineer on Poland's new Solidarity Airport, part of one of Europe's largest infrastructure ventures
Dar Al Handasah, the Lebanese design firm, has announced the opening of its new office in Warsaw, Poland, a move that follows the company beginning design activities as the Master Civil Engineer on Poland's new Centralny Port Komunikacyjny (CPK) Airport.
A statement from Dar said that the opening ceremony for the office was attended by Dar's Chairman and CEO Talal Shair, Regional Director of Operations Danny Aoun, Dar Poland's Office Director Piotr Usarkiewicz, and a team of the company's leading directors and industry experts.
Other guests at the ceremony included the CEO of CPK Mikołaj Wild, the Director of Aviation at CPK Piotr Kasprzyk, a representative from the Polish national airlines LOT, the Lebanese Ambassador to Poland HE Reina Charbel, as well as senior stakeholders, officials, and subconsultants in Poland's aviation industry.
Dar's Chairman and CEO Talal Shair said, "Even as one of the world's leading aviation design consultants and with our experience in airports around the globe, we were captivated by the sheer vision and ambition of the new airport. And that made it an even greater honour when our company was named the Master Civil Engineer.
"We are here today to fulfil all of our promises and more, by leveraging our technical excellence and consulting capabilities to help deliver a highly-sustainable, future-fit, and resilient airport that can bolster connections in Europe and position Poland as a continental hub," he asserted.
Danny Aoun added that the opening of the office emphasised Dar's long-term commitment to Poland.
"We are settling in to establish a local team of experts who can tailor our company's considerable expertise and global credentials to support projects in Poland and Europe deliver even more impact and value to communities across the country," he commented.
Key Infrastructure Venture
Last year, Dar signed an agreement with Centralny Port Komunikacyjny (CPK) to serve as the Master Civil Engineer on the Solidarity Airport in Poland.
The Solidarity Airport is the centrepiece of one of Europe's largest infrastructure ventures, the Solidarity Transport Hub, a planned transfer hub between Warsaw and Łódź which will integrate air, rail, and road transport.
The Solidarity Airport will handle 40 million passengers a year in its first phase and will incorporate railway investments providing employment for over 150,000 people as well as an entire envisioned Airport City that will serve as a hub for commerce, business, and exhibitions.
As the Master Civil Engineer, Dar will develop interdisciplinary design plans and specifications for the technical infrastructure of the transport hub, including runways and taxiways, aprons, airport stands and other dedicated airport facilities and systems, utilities, and service lines, as well as civil structures. Dar will also be tasked with securing the essential construction permits on behalf of CPK as well as providing on-site services (under the right of option) and consulting at every stage of the project.