Nanotech begins facility construction in Chico, California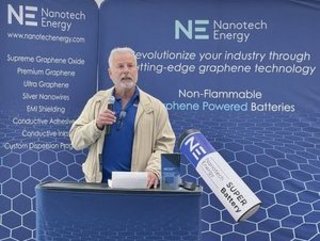 100Mwh facility at Chico Technology Centre will further its ability to bring safe battery technology to the market
Nanotech Energy, the US-based technology company focused on graphene-based energy storage products, has announced that construction of its new 100Mwh facility at the Chico Technology Centre in Chico, California, has begun.
In a statement, Nanotech said that the facility, which is home to its current research and development centre, will further its ability to bring much-needed safe battery technology to the market. The company owns 42 patents and is the only company in the world capable of producing non-flammable, cost-effective lithium-ion batteries, it claimed.
Once the build is complete in 2023, Nanotech will add up to 130 new jobs in its first few years of operation, the statement added.
Chief Operating Officer, Scott Laine, said at the ground-breaking ceremony: "Battery companies globally are racing to create this type of technology by 2030. We are ready to bring it to market now."
The company's existing Research and Development Centre in Chico opened in 2016. It is also currently building a new 517-acre, multiple building high-volume manufacturing facility in the Tahoe Reno Industrial Centre, the largest and most advanced data centre campus in the world.
Exponential Expansion
The 517-acre, multiple building manufacturing facility will significantly increase Nanotech Energy's manufacturing capacity to produce and scale its patented, non-flammable Graphene batteries and other graphene-powered products, including EMI (electromagnetic interference) shielding, transparent conducting electrodes, conductive inks, conductive adhesives, and silver nanowires.
The campus will have a combined footprint in excess of one million square feet, in support of its exponential US and international expansion. It is anticipated to bring more than 1000 jobs to the region over the next five years, including a significant number of engineering and research positions. The first building is slated to open in Q4 2022.
Nanotech's very high surface area, single layer graphene material is already being used across multiple applications, including non-flammable lithium-ion batteries, transparent conducting electrodes, conductive inks, printed electronics, conductive epoxy, antistatic coatings and EMI (electromagnetic interference) shielding.
The company was founded in 2014 by Dr Jack Kavanaugh and noted UCLA scientists, Dr Richard Kaner and Dr Maher El-Kady.