River pollution crisis for UK builders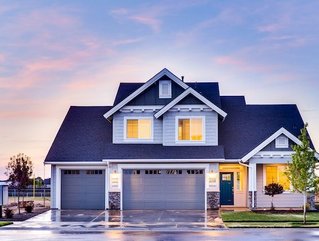 New home.
Pressure is growing on water companies and farmers to address high nutrient levels in rivers because of the affect on new home builds.
With pressure growing on water companies and farmers to address high nutrient levels in rivers, a new Lichfields report published by the Home Builders Federation (HBF) identifies solutions to Natural England's ban on building new homes.
Ineffective action taken to address the nutrients issue has resulted in a quarter of local authority areas in England now having a moratorium on the construction of new homes, leaving over 120,000 homes on hold, says the HBF.
As this week's episode of BBC's Countryfile demonstrated, agricultural run-off and the failure of water companies to upgrade infrastructure to cope with the growing population resulting in the dumping of raw sewage into rivers, are the root causes of the nutrients issue. The contribution of all housing stock is estimated to be less than 5%, so adding 120,000 homes to England's stock of 25 million dwellings would lead to a negligible increase.
The report published by HBF identifies improvements to Natural England's nutrient calculator so it more accurately reflects the impact of new residential development, therefore releasing some homes currently blocked from being built.
According to Natural England's calculator, the land-take requirements associated with achieving nutrient neutrality through nature-based solutions is considerable. The report's recommendations would allow for some housebuilding to resume. It would also reduce the amount of farmland that would otherwise need to be taken out of food-production to make way for nature-based solutions.
The report's publication coincides with the UN Water Conference. It identifies two important areas for change:
Adjusting Natural England's calculator to reflect the net additional population that will result from the delivery of new housing – rather than a continued focus on the gross population of the new dwellings – based on an application of the net additional average household size; and
assessing the number of dwellings that are to be delivered before 2030 rather than a requirement to mitigate a development in its entirety, regardless of when the houses will be delivered. This would enable larger schemes with longer build-out timetables to benefit from the planned statutory improvements to wastewater treatment works which it is hoped will take effect in 2030
Natural England's current ban on home building is having an increasingly detrimental social impact, says HBF, and is deepening the housing crisis we face. With the home building industry being a major employer and driver of economic activity, the ban is also damaging local economies and posing a major threat to many businesses, especially SME builders.
While the most sensible solution would be to lift the unnecessary moratorium immediately and focus on tackling the major polluters, so long as the government insists on nutrient neutrality it must explore short-term solutions to alleviate the burden and release some of the homes delayed.
As part of this year's Budget, government announced a requirement for water companies to upgrade their infrastructure by 2030. While HBF welcomes this measure, it fails to address the urgency of the issue and provides no immediate relief to the risk that many small house building companies will go out of business well before the measure takes effect in 2030.
Stewart Baseley, Executive Chairman of the HBF said: "It is widely accepted that the ban on new housing is disproportionate and unnecessary and does nothing to tackle the main causes of the nutrients issue. The new report identifies more balanced and speedier solutions that would help to alleviate this socially and economically damaging ban."
If the recommended improvements are made, it will become more feasible for some medium and larger sized housing developments to achieve nutrient neutrality before 2030 when the Government's proposed measure to improve the performance of wastewater treatment works is hoped to come into effect.
However, government will still need to consider a package of measures to assist SMEs who have neither the cash reserves to procure nature-based solutions nor will benefit from the Government's proposed improvements to wastewater treatment works or Natural England's nutrient mitigation scheme.