Top 10 construction projects in Asia for 2023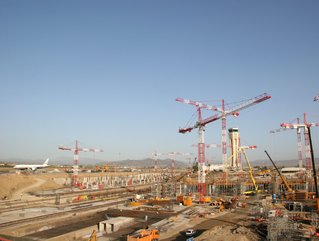 Construction across these regions is experiencing a boom in the wake of the COVID-19 pandemic.
Asia's construction industry is experiencing significant growth, with notable projects like Indonesia's 'New Capital' and Changi Airport's new Terminal 5
After uncertainty following the COVID-19 pandemic, construction in Asia is entering a period of significant growth. According to the Royal Institution of Chartered Surveyors, the construction industry is expected to grow by US$4.5tn to a total of US$15tn between 2020 and 2030, with US$7.4tn of the 2030 figure to take place in Asia alone.
Construction across these regions is experiencing a boom in the wake of the COVID-19 pandemic, with governments planning to invest seriously in infrastructure. Construction Digital therefore considers some of the most anticipated and exciting construction projects to watch out for in 2023.
10: Gaia Timber Building - Singapore
Named Gaia, after the ancient Greek Goddess of the Earth, this project is the largest timber building in Asia. It sprawls across 43,500 square metres (468,000 square feet), according to CNN. The project opened in May 2023 and cost 125 million Singapore dollars (US$93mn) to build.
It is the eighth building project on the Nanyang Technological University (NTU) campus to receive the Green Mark Platinum for zero energy. According to the university itself, the building is expected to produce around 2,500 fewer tonnes of carbon a year compared with a standard building of its size.
9: Suzhou Zhongnan Centre - China
Suzhou Zhongnan Centre is a 499.2-metre tall building under construction in Suzhou Industrial Park in Suzhou, China. The building was originally intended to be 729 metres in height, but this was scrapped in 2019 as China imposed a ban on buildings taller than 500 metres.
The building has been designed to become the tallest and most advanced supertall building along the Jinji Lake skyline in Suzhou. It will contain high-end apartments, a boutique hotel, prime offices, observation deck, and other amenities.
8: Tun Razak Exchange - Kuala Lumpur, Malaysia
Tun Razak Exchange (TRX) is intended to be an integrated 70-acre development that will be Malaysia's International Financial District in Kuala Lumpur. It aims to consist of 30 buildings across the site area and is due to open towards the end of 2023.
The COVID-19 pandemic accelerated digitalisation on a global scale, including in Malaysia. This new precinct will be home to more than 400 stores, ranging from new brands and stores, cinemas, department stores, a supermarket and dining terraces.
7: Hanoi Pilot Metro Line Project, Vietnam
This metro line is the first underground railway line in Hanoi, Vietnam. The project was created with sustainability in mind, to promote economic development in the city, as well as reducing traffic and emissions. It also aims to improve economic development in Hanoi and will consist of 8 metro lines for 200,000+ passengers a day.
The elevated section of the Nhon – Hanoi station metro line is scheduled to be put into service in 2023, according to Hanoi Times. It is expected that the underground section will be operational by 2027.
6: First UHV Transmission Channel - China:
Construction on this project only recently started in June 2023, which aims to connect northwest China's Ningxia (NHAR) with the central Hunan Province with an ultra-high voltage direct current transmission line. This is China's first UHV transmission channel and aims to focus on developing photovoltaic bases and deliver new energy.
The project consists of constructing a 1000kV ultra-high voltage power line to hopefully maximise clean energy. The project will be a total of 1,634km in length, with a total investment of US$3.95bn. China has announced that it aims to achieve carbon neutrality by 2060.
5: 1GW wind energy and battery storage project - Kazakhstan
Aiming to meet the energy requirements of one million people, this wind farm in Kazakhstan has been given the go-ahead. Energy company, Masdar, has agreed a roadmap to deliver the project.
The site will be located in the Zhambyl region of the country and include a 600 megawatt-hour battery energy storage system to ensure a reliable power supply. It will feature 200 turbines, making it the largest wind project in Kazakhstan, helping the country towards ensuring 15% of its electricity is renewable by 2030.
4: Azabudai Hills - Tokyo
Azabudai Hills, formerly known as the Toranomon-Azabudai District, is a complex of three skyscrapers currently under construction as of 2019 in Tokyo, Japan. Once completed, which is expected to be by the end of 2023, the complex will contain the tallest buildings in Japan.
It aims to be a huge open space in the heart of the capital city, with beautiful green spaces within it to build a new community hub. It has also been dubbed "a city within a city."
3: Mumbai International Airport – India
Navi Mumbai International Airport is an international airport currently being constructed in Navi Mumbai, India. It will serve as an alternative airport to the existing Chhatrapati Shivaji Maharaj International Airport (CSMIA), being the second in the Mumbai region.
The new airport is being built due to increasingly high air traffic demand in the country. It is anticipated to serve 90 million passengers and handle 2.5 million tonnes of cargo by 2032. It is expected to be inaugurated by 2024.
2: Changi Airport's Terminal 5, Tuas Port - Singapore
Singapore is moving forward with its key infrastructure project, the construction of Terminal 5 of Changi Airport. It has been redesigned to be more energy efficient and part of the Changi East Urban District, which will ultimately create more jobs for Singaporeans. The district is also expected to have offices, smart work centres, halls, hotels, apartments and public spaces.
According to the airport website, Terminal 5 will be located within the 1,080 hectare Changi East development. The new terminal will be able to handle approximately 50 million passengers every year. It is expected to be operational around the mid-2030s.
1: The 'New Capital' - Indonesia
Nusantara, the planned city, is intended to be the future capital of Indonesia and is currently scheduled to be inaugurated on 17th August 2024 in its location of Borneo. The project aims to build a green and walkable capital city that would be a way of symbolically centralising the Indonesian government.
Part of the reason for its construction is due to Jakarta, the current capital city, sinking as 40% of it now lies below sea level. This construction project will aim to relieve pressure on Jakarta, which is also very crowded and struggles with pollution.
"We want to build a new Indonesia," President Joko Widodo said, as reported by the NY Times.
"This is not physically moving the buildings. We want a new work ethic, new mind-set, new green economy."