Bouygues Group develops multi-services profile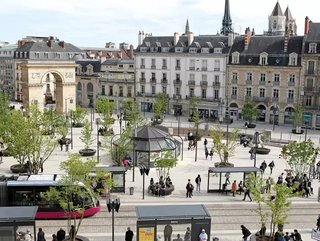 Bouygues' acquisition of Equans at the end of 2021 will see it become a key player in the energy, digital and industrial transitions
Background
A French construction company with a global presence, Bouygues operates in more than 80 countries, with more than 129,000 employees – 66,117 in France and another 62,901 abroad. The company operates across three spheres – Construction, Telecoms and Media, and has a 0.16% stake in Alstom, the French transportation solutions provider.
As a diversified services group, Bouygues is known for its project management know-how and expertise in delivering challenging projects. Its construction arm consists of Bouygues Construction, Bouygues Immobilier and Colas, with each segment focusing on various aspects of the industry – design, build and operating of projects in the building, civil works, energy and services sectors, urban planning and development, and transport infrastructure.
Executive Changes
The company is led by Chairman Martin Bouygues, while the Group Management Committee consists of Olivier Roussat as CEO, Edward Bouygues as Deputy CEO, Pascal Grangé as Deputy CEO and Chief Financial Officer, and Jean Manuel Soussan, Senior Vice-President and Human Resources Director.
Having previously served as Deputy CEO, Roussat was appointed as CEO of the group in 2021, with Bouygues and Grangé appointed to their roles to assist him.
The heads of the construction business segments are Pascal Minault, Chairman and CEO of Bouygues Construction, Bernard Mounier, Chairman of Bouygues Immobilier, and Frédéric Gardès, Chairman and CEO of Groupe Colas, who were all appointed as chairmen in 2021, following the group's decision to combine the posts of chairman and CEO for the subsidiaries.
Operations Update
At the end of September 2021, the backlog in the construction business was valued at €31.8bn, providing good visibility on future activity, the group said. This was 5% lower than the backlog of €33.5bn recorded at the end of September 2020, reflecting a high basis of comparison related to the very low drawdown of the backlog due to lockdowns, as well as several major contracts won in the first half of 2020.
International markets accounted for 64% of the backlog for Bouygues Construction and Colas at the end of September 2021, up two points compared to the previous year. Furthermore, the construction business reported sales of €20.6 billion for the first nine months of 2021 – a 9% increase both year-on-year and like-for-like and at constant exchange rates. The increase was driven by a 16% increase in business in France compared to the first nine months of 2020. The first half of 2020 was affected by the enforcement of a strict lockdown followed by a gradual resumption of activity. 
International sales were up 3% over nine months compared to the first nine months of 2020. Sales remained 5% lower than in the first nine months of 2019, due to a high basis of comparison.
The construction businesses reported a current operating profit of €515mn, representing a sharp year-on-year gain of €382mn and closely in line with the first nine months of 2019. Reaching 2.5%, current operating margin returned to its first nine months of 2019 level, far exceeding nine-month 2020 (0.7%), notably thanks to higher margins at Colas (current operating margin of 2.4% versus 2.2% in nine-month 2019).
Operating profit reported by the construction businesses was €509mn, up €437mn year-on-year. This included €6mn of non-current charges related to adaptation measures at Bouygues Immobilier, compared to €61mn at Colas in nine months 2020.
For Colas, the backlog amounted to €9.6bn, rising 4% year-on-year thanks to strong business momentum in non-French markets. The company also won major road-building contracts in Canada and Madagascar in Q3 2021, while a significant order intake was expected in the railways segment in Q4 of the year.
Bouygues Construction's backlog (-7% relative to the end of September 2020) reflected a high basis of comparison resulting from the slowdown in backlog drawdown and major contracts won in the first half of 2020, and a lower volume of major projects processed in 2021, the group said.
Sustained commercial activity at Bouygues Immobilier led to a 13% year-on-year increase in residential property reservations, reflecting strong customer demand. In this context, the company reinforced its land management, with building permit applications 48% higher than the previous year's timeframe. However, the company noted that lead times for the issuance of building permits were still very long, affecting supply availability. Meanwhile, commercial property customers remained cautious, resulting in an overall backlog that was 15% lower than end-September 2020.
Sustainability
Bouygues' construction companies were actively involved in several sustainability and environmental focused schemes over the course of 2021, with Bouygues Construction announcing plans to strengthen its climate strategy to reduce the carbon footprint of its businesses and to promote energy-efficient solutions.
Furthermore, the company has renewed its partnership with WWF France, covering the period of 2021–2024, with the aim of reducing its greenhouse gas emissions by 30% by 2030, and to offer its customers a range of low-carbon solutions.
The company also built an innovative sustainable neighbourhood in partnership with the Petit-Saconnex Retirement Home and the La Fonciere Real Estate Investment Fund in Geneva, Switzerland. The programme will create a sustainable neighbourhood of 600 new residents, featuring 216 low-cost housing units, a 99-room apartment hotel, medical centre and retail units, as well as an expansion of a 57-place day care centre. Work on the project began in Autumn 2021 and will be completed by 2023.
Meanwhile in October 2021, Bouygues Immobilier's urban planning division, UrbanEra signed a framework agreement with Legendre Energie and Urban Solar Energie relating to 10,000sqm of photovoltaic panels for the l'Etoile eco-neighbourhood in Geneva, the company announced. The company also worked on and delivered a number of other eco-friendly and sustainable developments over the course of the year, it said.
Amongst the projects Colas delivered in 2021, a notable sustainable development was its work on campus at the La Doua University in Lyon, France, where it is working combining several innovative and sustainable solutions from the Colas Group into the redesign of roadways and mobility on the campus.
Technology Focus
In July 2021, Bouygues Construction announced that it would be joining forces with ESTP, Egis, Schneider Electric, BRGM, SNCF Réseau and Arts et Métiers to form an alliance of stakeholders to create a 'Digital Twins of Constructions and Infrastructure in their Environment' Chair that will research and develop the technology as part of the industry's ongoing digital transformation.
This chair will not only help create a holistic and shared vision of digital twins, but it will also fund innovation and research programs on the subject, focusing on six key research and study themes:
Organisation of datasets used and sourced from the digital twin during the building's life cycle

Digital continuity applied to digital twins: interoperability of models and data

Architecture of digital twins: link between the physical building and the DT

The digital twin as an enhanced decision support tool (Artificial Intelligence and simulation)

Contribution of digital twins to the energy and green transition

Governance of digital twins: data protection and cybersecurity
Corporate Outlook
In November 2021, Bouygues Group signed a purchase agreement with Engie to acquire Equans, a move that will accelerate the group's development in the multi-services sector, converging the energy, digital and industrial transitions.
The acquisition will create a global leader for the sector, with more than 96,000 employees and combined sales of €16bn. It will leverage the expertise of Equans and Bouygues' Energies and Services arm to create a combined entity that will be the Bouygues Group's largest business segment by sales and number of employees. It will grow based on a long-term industrial vision, the company said.
The construction arms of the group also enjoyed a productive end of 2021 and start to 2022, with Colas securing a €400mn, multi-year maintenance and response contract for Area 9 in the UK at the start of 2022.
Bouygues Construction also expanded and increased its offerings at the end of 2021, with a particular focus on the commercial property, healthcare and smart buildings sectors.
Finally, Bouygues Immobilier handed over a commercial property development to Canal+ in Issy-les-Moulineaux near Paris in December 2021, amongst other properties and schemes planned for 2022.