COP26: Priorities, metrics and emissions in spotlight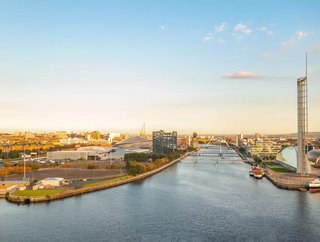 As Construction Leadership Council publishes new priorities and performance metrics, research shows industry ignorance over the scale of emissions
The Construction Leadership Council (CLC) has published nine priorities and 28 performance metrics as the industry found itself under the global spotlight at COP26.
On the conference's Cities, Regions and Built Environment Day, CLC announced its priorities are:
Accelerating the shift of the construction workforce to zero emission vehicles and onsite plant
Optimising the use of Modern Methods of Construction and improved onsite logistics, in doing so reducing waste and transport to sites
Championing developments and infrastructure investments that both enable connectivity with low carbon modes of transport and design to incorporate readiness for zero emission vehicles
Working with Government to deliver retrofitting to improve energy efficiency of the existing housing stock
Scaling up industry capability to deliver low carbon heat solutions in buildings, supporting heat pump deployment, trials of hydrogen heating systems and heat networks
Enhancing the energy performance of new and existing buildings through higher operational energy efficiency standards and better building energy performance
Implementing carbon measurement, to support our construction projects in making quantifiable decisions to remove carbon
Becoming world leaders in designing out carbon, developing the capability of our designers and construction professionals to design in line with circular economy - shifting commercial models to reward measurable carbon reductions
Supporting development of innovative low carbon materials, as well as advancing low carbon solutions for manufacturing production processes and distribution
The CLC has partnered with ITN Productions Industry News to produce Building a Greener Britain, a programme exploring some of the new pathways and sustainable methods the sector is adopting, alongside initiatives such as the Construct Zero programme, CLC's response to the climate emergency.
The CLC's measures coincide with new research showing that the industry's biggest battle may be against complacency and ignorance, as much as introducing practical steps that will reduce emissions.
For its City of Tomorrow report, building performance analyst IES spoke to a wide range of professionals working in the built environment sector about the current status of sustainability methods and targets, including engineers, facilities managers, contractors, developers, planners and architects.
It found 58% of built environment professionals believe the sector is already doing enough to tackle its carbon impact, despite the built environment contributing 36% of total global energy-related CO2 emissions. The most recent available data shows CO2 from operational energy use of buildings reached its highest level yet in 2019.
Only 29% of those working in the sector felt that it should be doing more to reduce its carbon impact, and 13% were unsure if current efforts would be enough.
The built environment contributes almost 40% of the UK's total carbon footprint - yet when asked to estimate this figure, 80% of those surveyed answered incorrectly, with 45% underestimated the total percentage. Six percent guessed as low as between 1-10%.
When asked which aspect of the sector they believe is the place where most sustainability gains can be made, 51% of those surveyed said construction. However, only 22% said operation/energy use, and just 4% said materials development.
Don McLean, CEO of IES, said while it is great that awareness of climate issues in general is now pretty widespread, and 79% of organisations in the built environment sector are actively working towards net zero, it is clear that more needs to be done to communicate the built environment's role in carbon emissions to those working in the sector.
"In particular, we really need to raise awareness of the environmental impact of buildings' operational energy use, with the available data showing that emissions from building operations are still a huge problem, that efforts up til now have failed to tackle effectively," he said. 
"Reducing the emissions created during the construction process is of course essential, however considering that 80% of the buildings that will be around in 2050 are built already, optimising the operational efficiency of those already in existence is just as, if not more important."
The Unlocking the Benefits of Building Renovation from Rockwool and Cambridge Econometrics urges policymakers to develop long-term renovation programmes that manufacturers need to plan production capacity and properly train more installers; team up with banks to combine public grants and low-interest loans; and make it easier for households to apply for subsidies and find qualified workers.
Jon Stenning, Associate Director at Cambridge Econometrics, said: "Renovating the built environment is a key challenge on the road to decarbonising our economies. The consumer poll carried out for this report shows that there is substantial consumer appetite for retrofitting, but that much more must be done to match up financing with renovation projects."
Professor William Swan, Director at the Energy House Laboratories at the University of Salford, said now that we are seeing global recognition for the importance of carbon-free homes and buildings, the next step is to focus on what we need to do to meet newly established goals and overcome the challenges we face collectively across the globe.
"Testing new and innovative ways to make our buildings more environmentally friendly is paramount in our journey towards a cleaner, safer, and more sustainable future," he said.
"Clean growth is central to our carbon reduction strategies around the world. Many new solutions including retrofitting homes with more effective insulation and updating inefficient mechanisms with new, lower-carbon options such as heat pumps, are already being investigated. However, we need to ensure that our progress and innovation is continual, and that proper testing and real-world findings can help to ensure the implementation of greener alternatives across all areas of our homes."
With 68% of the global population living in cities by 2050, building a sustainable and resilient future is imperative.
COP26 President Alok Sharma said there is a "critical need" to step up measures on financing, with just a day to go before COP's closure. Ministers will convene at 8.30pm on Thursday, and 11am on Friday. "The world is watching us, and willing us, to reach consensus and we cannot afford to fail."