Decarbonising designs, one click at a time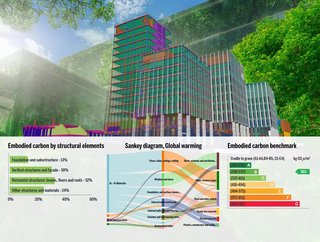 Päivi Puntila at Trimble says sustainable construction will no longer be a choice, but a prerequisite
Päivi Puntila is business development director and executive sponsor for sustainability,
structures division, at Trimble. In this column, she reflects on the momentum from COP26 and says sustainable construction will no longer be a choice, but a prerequisite

World leaders, captains of industry, governments, NGO's and scientists flocked to Glasgow to attend the COP26 UN Climate Change Conference, for two weeks of discussions on how to keep global warming down to the numbers agreed upon in the Paris climate accord. The chances are that these targets will not be met without extra efforts (and extra financing).
Scientists have worked relentlessly over the last decades to make more reliable data available that can form a trusted basis for new policy decisions in the fight to reduce the effects of climate change. That same data has led the UN to point to building designs with fewer or alternative materials, and more recycling of construction materials, as some of the most promising strategies to cut greenhouse gas emissions.
With structural elements being responsible for up to 70% of a building's embodied carbon footprint, cutting the carbon emissions of any structural design is critical in the Race To Zero, as outlined in the COP26 goals. 
To get to the most impactful decision on how to reduce emissions, a highly granular view is needed of the carbon impact of a building during its entire lifecycle. Including calculations of embodied carbon - the amount of carbon dioxide emitted into the atmosphere from creating and maintaining all the materials that form a building.
Although this is a relatively new concept, the pressure is on for the construction sector to start calculating and managing carbon performance, because soon, sustainable construction will no longer be a choice, but a prerequisite. 
Governments and other authorities have already started to require declarations of embodied carbon, and with mandatory emission limits looming in the future, calculating emissions is fast becoming critical to the work of structural experts - whether engineers, designers, builders or fabricators. One of the leaders in the field of emissions calculations is One Click LCA, which manages an extensive Environmental Product Declarations (EPD) database.
To enable the users of our Tekla software to calculate carbon emissions at different phases of a construction project, Trimble has entered into a collaboration with One Click LCA. All in an effort to help move the needle toward a net zero future for construction. 
Structural design software should be used to design in the most safe, serviceable, durable, aesthetically pleasing, cost-efficient and structurally best performing way. But it should also - to a growing extent - help minimise the material waste and reduce unnecessary rework on designs, thus helping keep emissions down.

The combination of constructible data from Trimble's Tekla software with One Click LCA's EPD allows the embodied carbon emissions of materials in a design - down to every nut, bolt or rebar - to be calculated for their entire lifecycle.
The further integration of the design data from Tekla with the embodied carbon data of all of a design's elements, empowers structural engineers, fabricators, contractors, owners and other stakeholders to systematically and effectively decarbonize their projects, helping move the needle toward a Net Zero future for construction.
To stimulate the adoption of embodied carbon calculations in the light of the COP26 efforts, Tekla users can access the One Click LCA tool, from within their Tekla software, for free until the end of 2021.